INTRODUCING DOWNERS DRIVE IN DOWNERS GROVE
There are some streets in some towns that just have a little extra special feel to them. Downers Drive is certainly one of those streets! We were so delighted for our clients when, after an exhaustive search of the suburbs, they landed on this beautiful property on this beautiful street. It can be hard to look at an existing property and imagine its potential, but the potential in this 100x300 lot in this location was undeniable! The challenge was on to design a home fitting of the location and perfect for this growing family.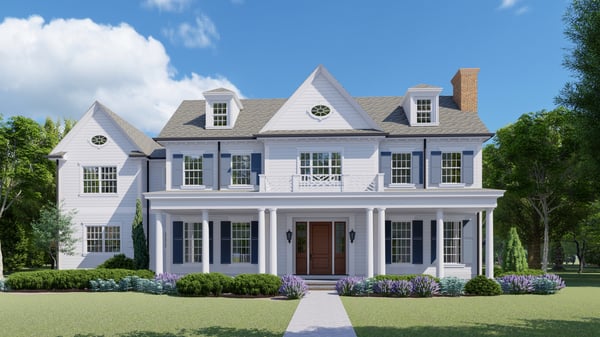 Our design team got right to work, taking inputs from our clients on their needs and tastes and shaping that into architectural plans they would love. The result is this classic Georgian Colonial style home. Crisp white clapboard siding complements cottage style, double hung windows and stately full height shutters. Details like modillian dentil mouldings and a long front covered porch with a chippendale balustrade complete the vision for this home's elegant, timeless design. It was important to ensure the home had special details throughout the exterior, but that those details struck the right balance of looking elegant without feeling over done.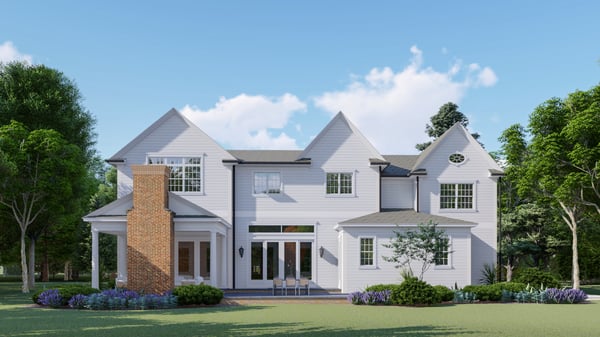 The thought given to exterior design didn't stop with the front of the house. Brick chimneys are incorporated into the design adding a warmth to the home (literally and figuratively!). Other materials like bluestone are incorporated into front and rear patios and serve to elevate the style of these spaces.
Inside 12' ceilings in the family room and quad sliders in the family and dining rooms offer high impact in all the right places. This 4800 square foot home fully utilizes space with 5 bedrooms upstairs, a 3.5 car garage and a finished basement complete with exercise room and additional guest suite. The first floor lays out in a way that creates function for a family with kids (hello large mudroom with additional entry to the backyard) and a fantastic flow for entertaining with a butler's pantry connecting the family room to a sitting room, and a dining room that opens up to the kitchen.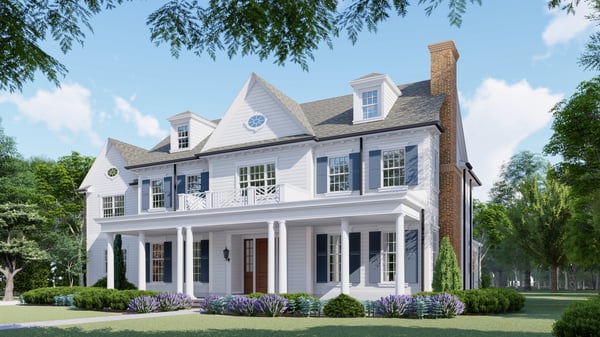 We love how the final renderings showcase a home that strikes such a nice balance between stately elegance and welcoming charm. It's going be an incredible next chapter for this young family and we couldn't be happier for them! Follow us on INSTAGRAM to see updates on this project and so many others.
We're also in the process of finalizing plans for another DOWNERS GROVE home that has a much more modern design. We will be sure to update you on the vision for that home in the coming weeks.
Interested in talking about your own custom home, renovation or finished basement project? Give us a shout! We have great lots in so many other towns and can help you find the perfect place for your dream home.
You can also check out some of our finished work here: