It wasn't that long ago we were telling you all about this Downers Grove project kickoff. The renderings we use for these kickoffs are a great tool for us to showcase our upcoming work to you, but their primary use is as a final aid-to-decision for our team and clients. Everyone feels better when we can get a more realistic gut-check on design before spending money on materials. And, as you'll see below, these renderings sure are realistic!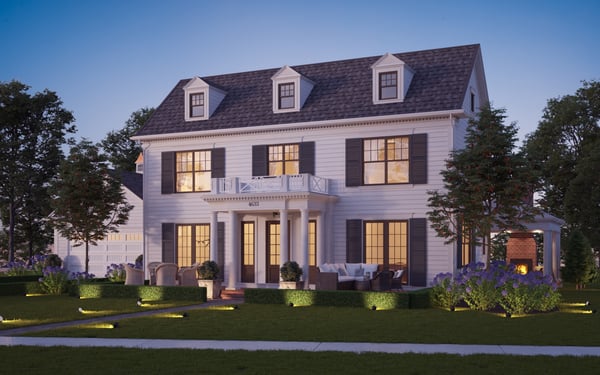 We've finished up this very home and our clients made incredible time getting settled. Recently they were kind enough to have us back to capture the final product. As a bonus, we got to see how their flawless style was carried through from selections made during the home build process, to their furnishings and decor.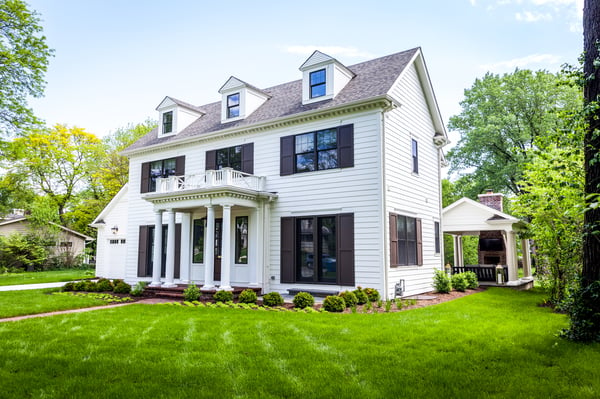 Timeless details abound on the exterior of this Colonial-Georgian inspired new construction home; from the symmetrical center entrance to the classic covered portico and dormers.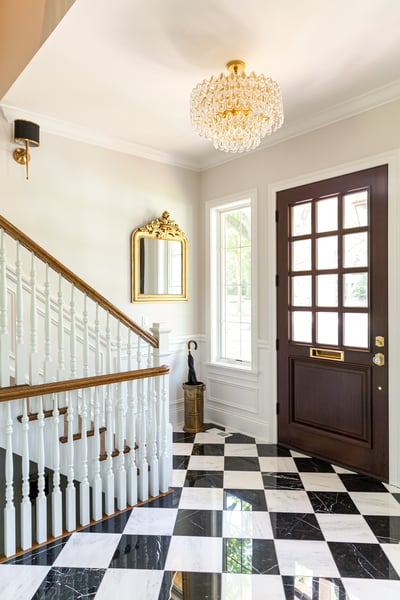 From the moment you set foot in this home you're greeted with a refined, classic elegance that is carried throughout the space.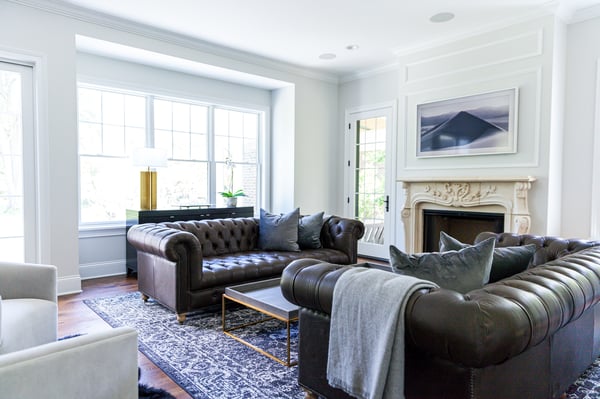 While there is a lot of great use of color in this home, the family room and kitchen have a soft palette that is accented with style-appropriate moldings and trim that serve to elevate the design and further customize the space.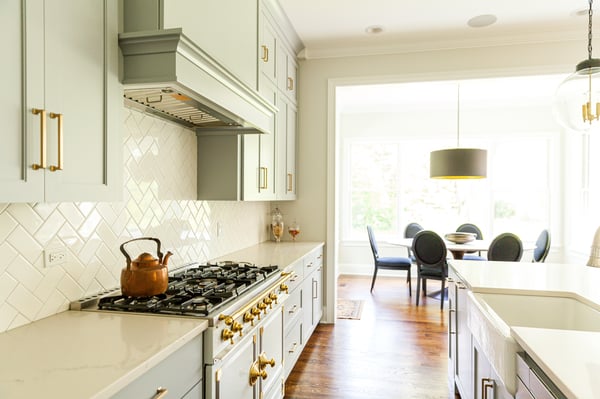 The LaCornue range was a selection this client made early on - and for good reason. It's a showstopper and really set an incredible design tone for the rest of the space influencing hardware and lighting selections.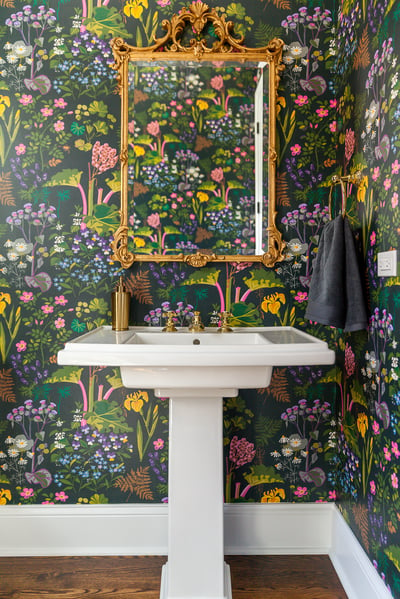 We've said it before and we'll say it again, powder rooms are an incredible space to play with color and pattern. This client did both and balanced a bold, whimsical print from Brewster on the wall perfectly with a clean-lined pedestal sink. Doesn't it just make you smile?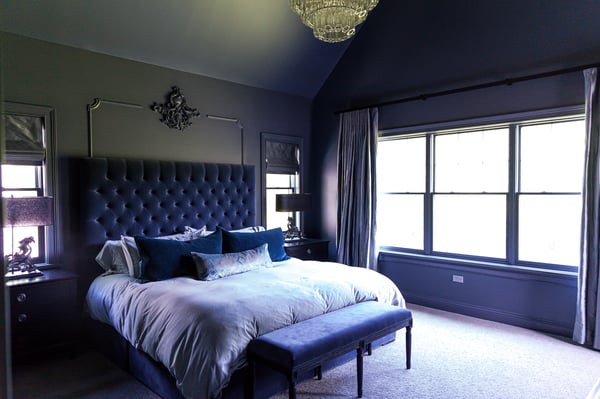 Changing moods from the whimsy of the powder room, a bold sense of drama is brought to the master bedroom. Dark paint, custom molding, high ceilings and a glamorous chandelier come together to create a luxurious space that draws you in.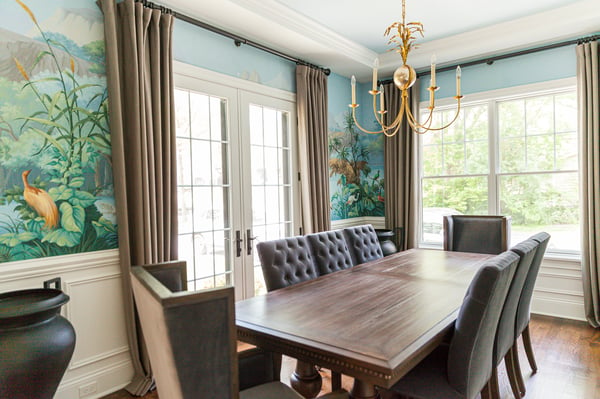 We're confident there will be some memorable dinner parties and holidays hosted here. This dining room features double doors that open to a front patio. But we know it's the beautiful hand-painted wallpaper that will keep everyone focused on what's happening inside.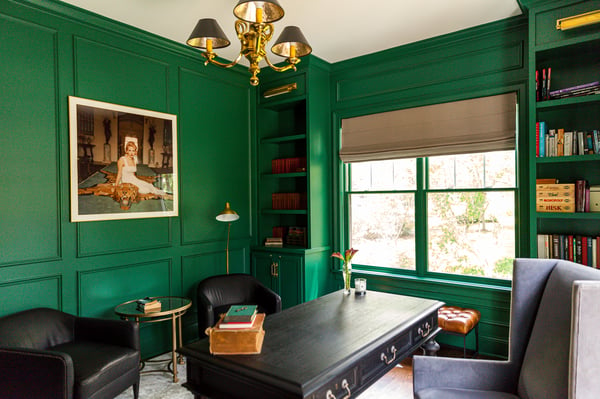 This home office is a far cry from cubicle life. Paneled molding, custom bookshelves and library lighting help to curate this home office and lounge. The bold color and refined decor remind us that style can be infused in big ways even into the most functional of spaces.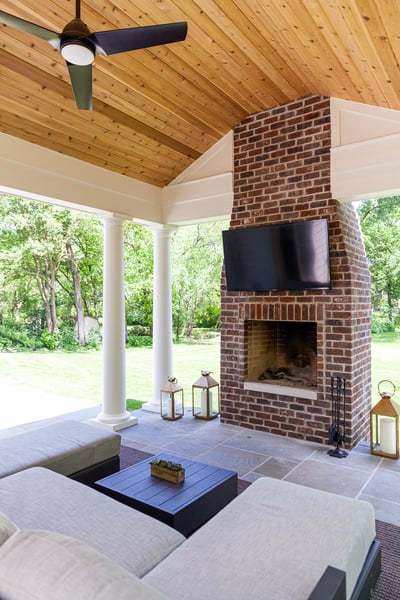 When these clients purchased this lot, it was the future vision of their yard that quickly sold them. Seeing this covered patio with brick fireplace overlooking their deep lot is proof that their vision was spot on.
Wait - there's more! This was just a sneak peak of this home. Check out so many more rooms and selection details:
You can also view our home builder portfolio here. From new construction, to renovations/additions, to finished basements - we tackle it all.
Contact us anytime to talk about your project - we'd love to hear what you're dreaming up and walk you through how we approach custom home building.