We've had fun sharing some work-in-progress photos of this beautiful new construction home in Downers Grove and seeing your reactions to some of the preliminary selections and design elements. This home is finished, our clients are quickly settling in to their new space - and from what we hear, their former city kids are loving the expansive front and backyards. As with many projects, we popped in before this family moved in and captured some final photos so we could showcase this home with all of you. We hope you enjoy the tour of this classic home; it is filled with thoughtful details that pull in some feminine design touches perfectly balanced with a timeless look.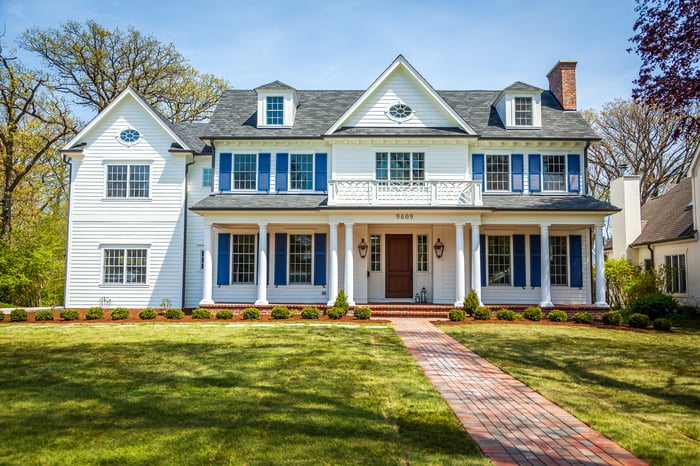 A case study in curb appeal! The brick walkway immediately pulls you towards the entrance of this home and it's welcoming style signals this is a house that has a lot of living happening inside. The soft blue shutters are also an early indicator that while this is a classic-style home, there are some fun twists on classics that you'll see inside.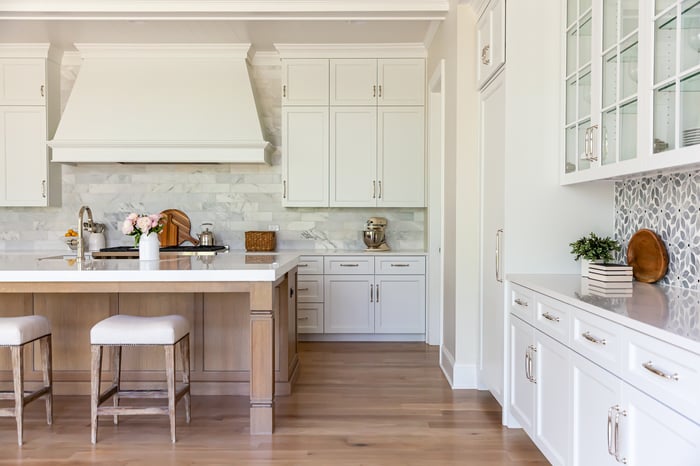 A giant island in quarter sawn white oak with a single slab quartz countertop anchors this space. While the kitchen features a built in dining area, we know this is where the majority of the gathering will inevitably happen.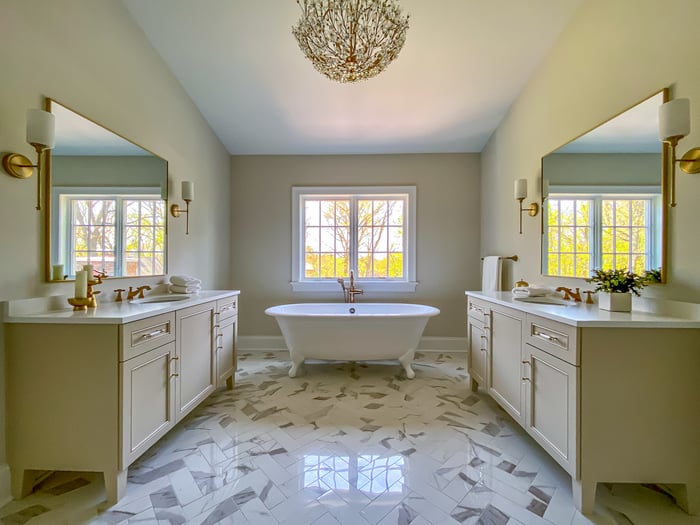 If you can't visit as spa, your bathroom may as well double as a serene haven. The materials including the Victoria & Albert soaking tub create a elevated space, and the cabinet color reminds us that beige is still beautiful.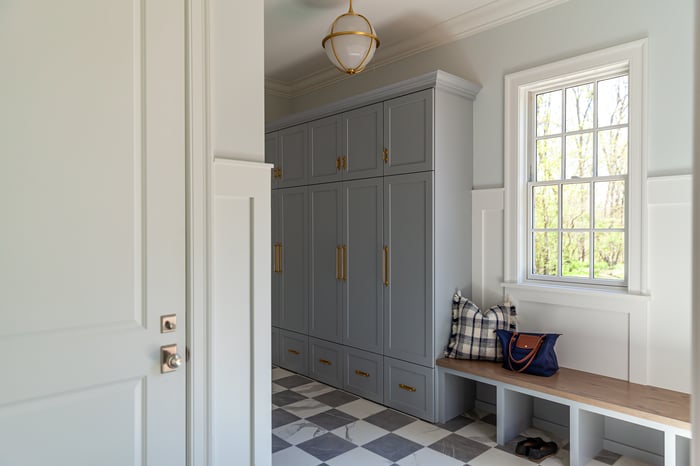 This sophisticated room has us rethinking a name change for a "mudroom". With an entrance from the garage and backyard, we know this will be a main thoroughfare for the home, so the materials and built in locker storage were chosen to hold up to the traffic. But the materials were also chosen to flow perfectly with the slightly more formal look of the home. And let's be honest, it's just plain pretty.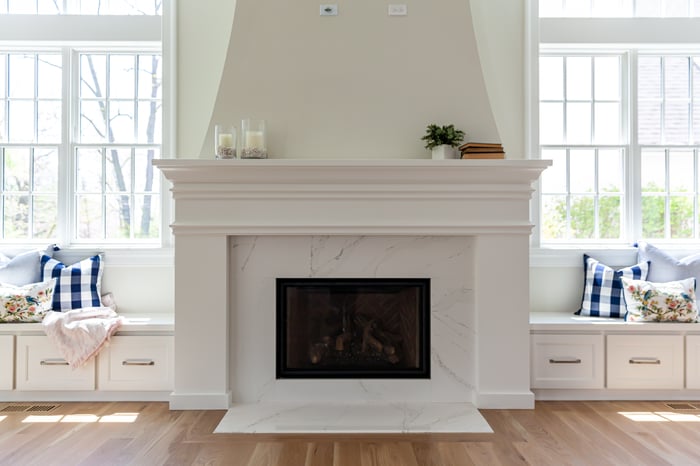 This oversized family room will be an incredible backdrop for lazy Sunday mornings and bustling family holidays. The built ins flanking the fireplace offer toy storage and double as additional seating for parties down the line.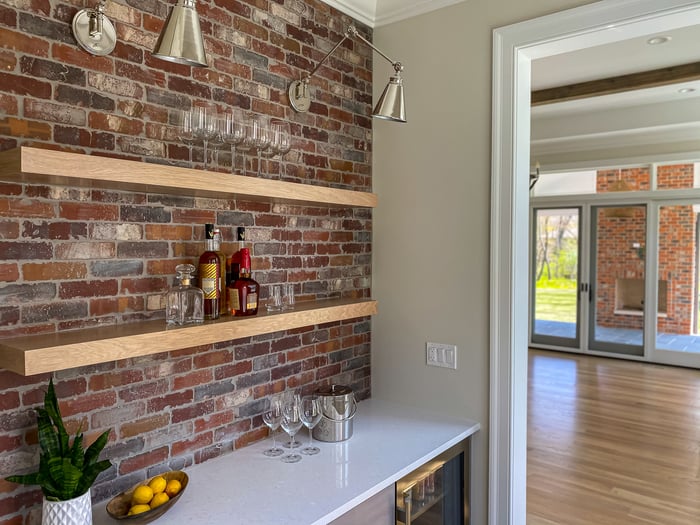 Brick is such an incredible material to pull in texture and warm up a space. This butler's pantry/bar located between the family room and formal living room help to keep the flow between rooms and will be the perfect spot to freshen up a cocktail when company is over.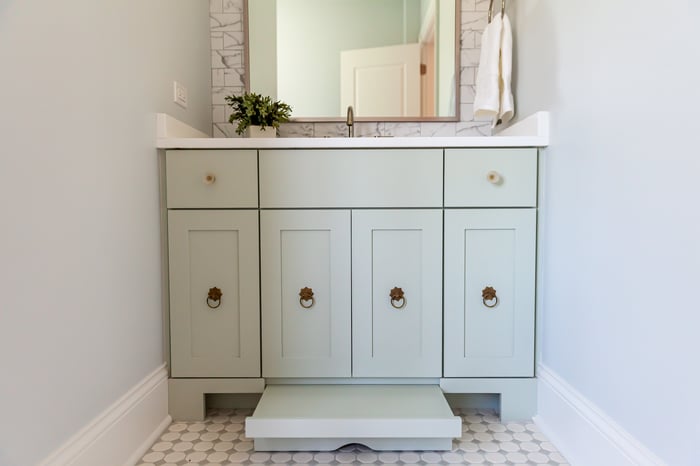 In many Jack and Jill bathrooms we do a shared sink room with double sinks, but here the vanities were split so each bedroom has their own vanity with a shared bathtub and toilet space. Our favorite feature of this space is the built in step stools; the perfect solution for our smallest of clients that can easily tuck away when not in use or when they finally are all enough to reach the faucet on their own.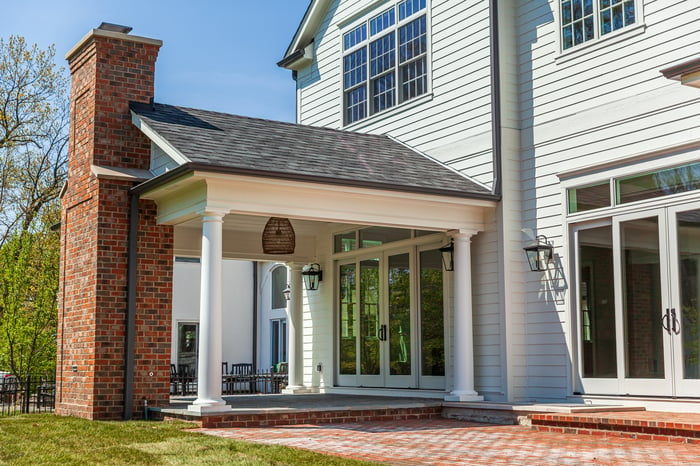 When you have an incredible backyard, you want to play to that strength. A patio off of the main dining area of this home will offer up a sunny spot to dine al fresco. But people are definitely going to head to the covered patio located just off the family room for late night s'mores and fireside wine nights!
That's not all, there's so much more of this home we'd love to share. Check out the full image gallery of this Downers Grove custom home.
Interested in chatting about your own custom build project or dreaming up a big renovation?
Let's talk! We can help you to identify the perfect lot or reno project to bring your home style to life.