There is something magical about reinventing a home, and our most recent project in Naples has given us plenty of magical moments. This was a home that certainly had its glory days and was once very grand. However, when we purchased it, it was in dire need of a refresh (if you doubt that, just wait until you see the photos below). It was built with a solid, unshakeable concrete block foundation and and has weathered many a hurricane over the years. That is a great starting point. However, we needed to majorly rethink flow of the house and update all of the spaces to better balance formality with today's relaxed Florida lifestyle if we were to make it shine once again. Today we're sharing that transformation with you and hope you enjoy the tour of this for-sale renovated Florida property.
INTRODUCING SPYGLASS LANE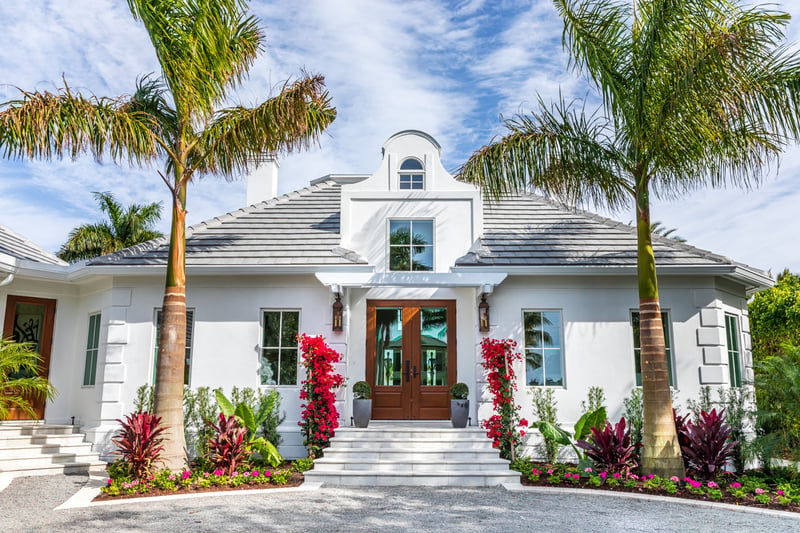 This waterfront home backs up to Runaway Bay in Naples' sought after Port Royal neighborhood. It was a perfect example of a property filled with potential; prime location, water views, a boater's dream. On the exterior we endeavored to keep the spirit of the home's original design so many of the changes outside were focused around updating aged elements like doors and roofing, and sprucing up landscaping.
Inside, some larger transformations were waiting. The existing kitchen was outdated, but we also saw an opportunity to expand the footprint for a better layout, more storage, and to make the kitchen more of a focal point than it currently was.
BEFORE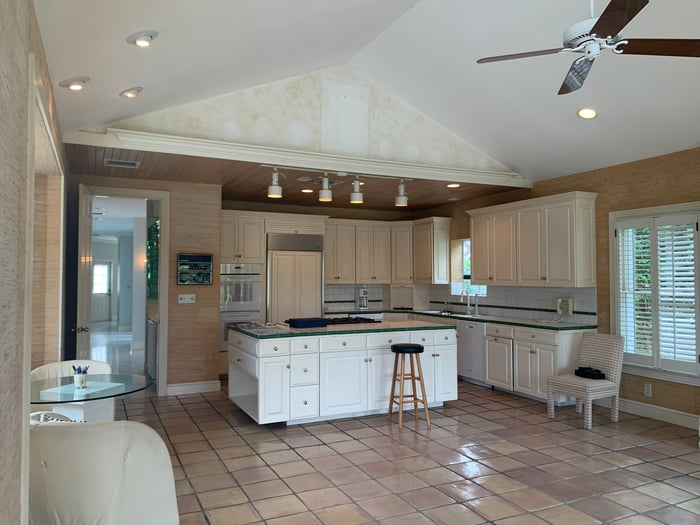 AFTER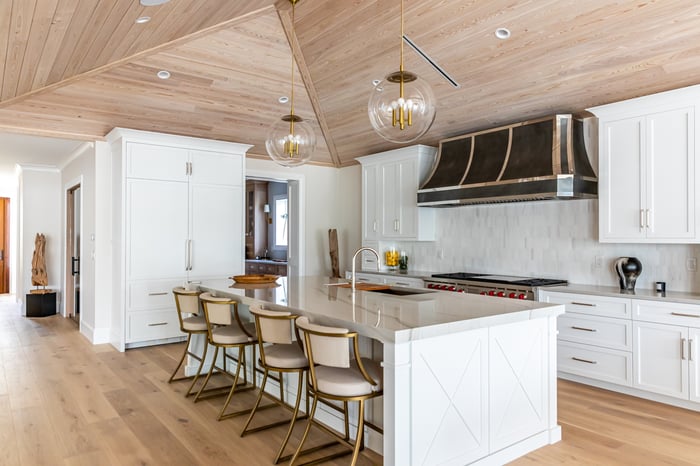 Custom ceiling design from our talented craftsman, all new custom cabinetry, wide plank white oak floors, and a showpiece of an ornamental hood all from Oney Sheet Metal come together to make this a much more inviting space. The wood tones work with the white cabinetry to impart an airy, coastal feel to the space. Oversized Wolf Subzero appliances and a large island with Mont Blanc Quartzite countertops ensure this home can accommodate a crowd.
BEFORE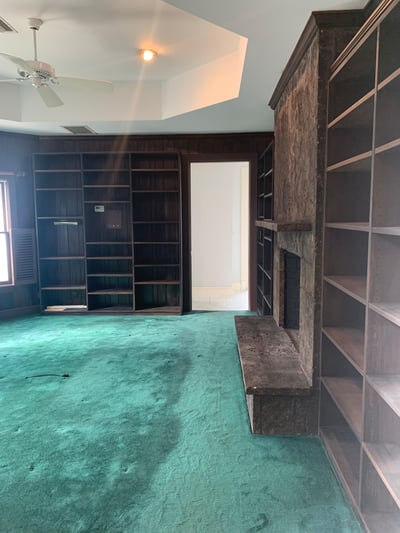 AFTER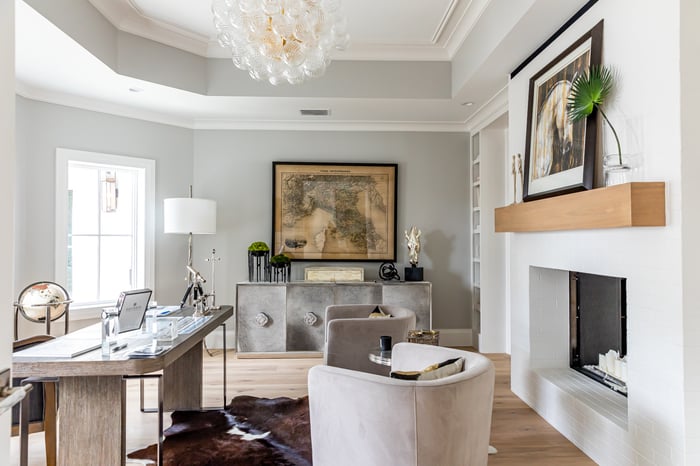 Maintaining an office space still felt like an important room to include in the renovated home - and we love the idea of a fireplace as an anchor point for a room. There was little other than this that we wanted to keep in this room. So without a second thought we said goodbye to the green carpet and dark built-ins, and brightened this space with a new fireplace surround, soft paint, lighting from Visual Comfort and the white oak flooring.
BEFORE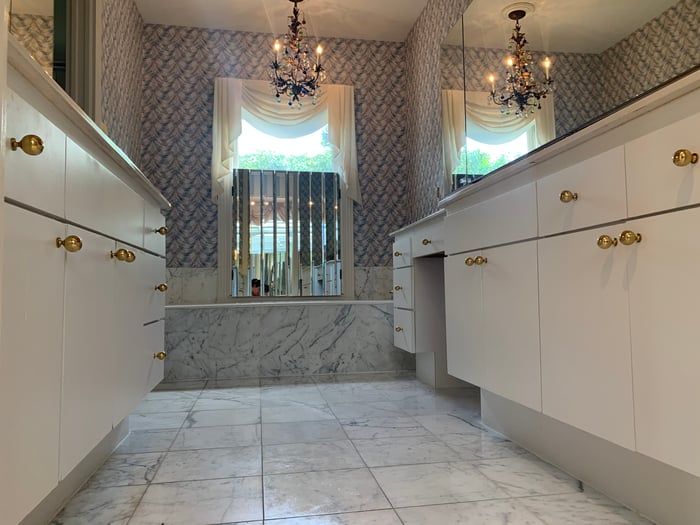 AFTER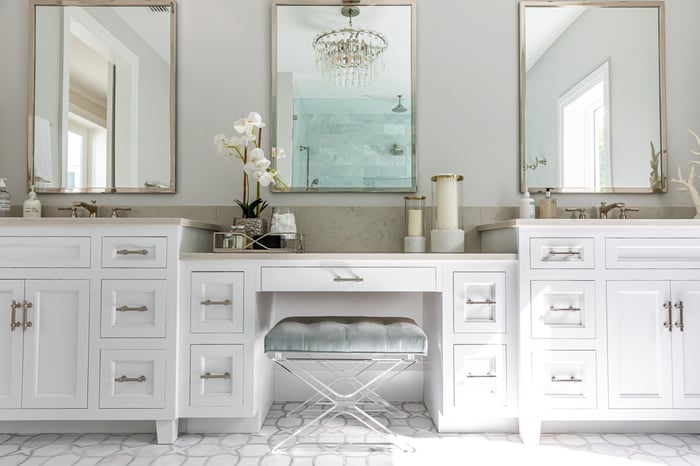 When you think about luxury living, a spa-like master bath is a must-have. We reformatted this master bath to open up the layout and updated all surfaces, fixtures and lighting. The oversized shower with multiple water features is almost a room in and of itself!
Time to head outside and check out the pool scene:
BEFORE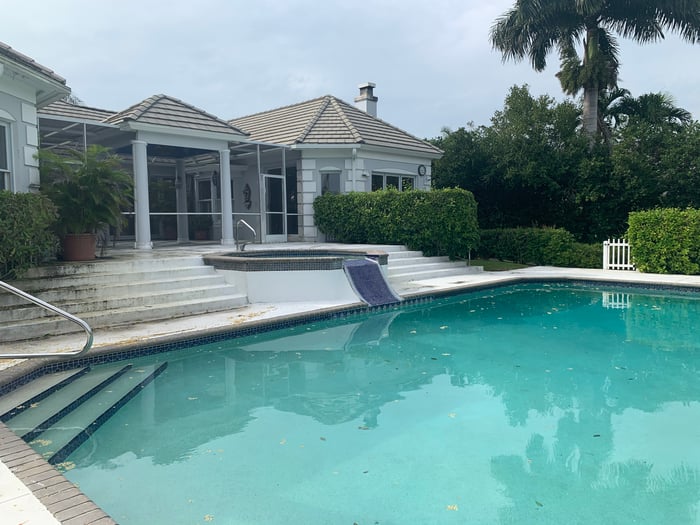 AFTER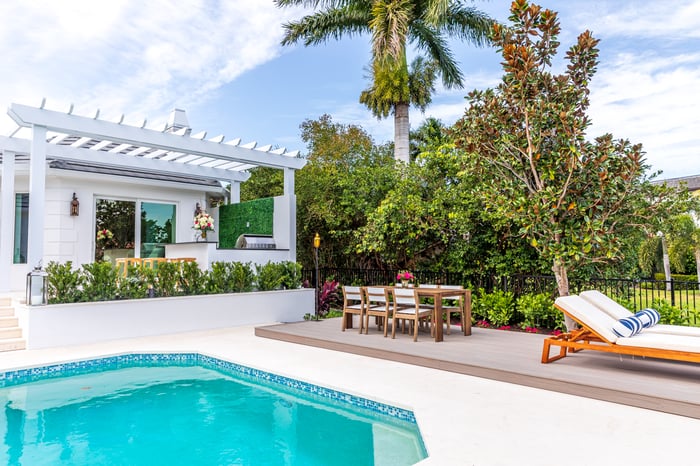 We all know if you're looking for waterfront property in Florida, your primary focus will be on outdoor living. The existing outdoor space did not match up with the million dollar views and had fallen into a level of disrepair. So we opened spaces up, incorporated updated design elements like the pergola shown here and fully covered spaces for shade, added an outdoor kitchen, and made sure the space beckoned you out from the moment you walked through the front door.
Here's another view:
BEFORE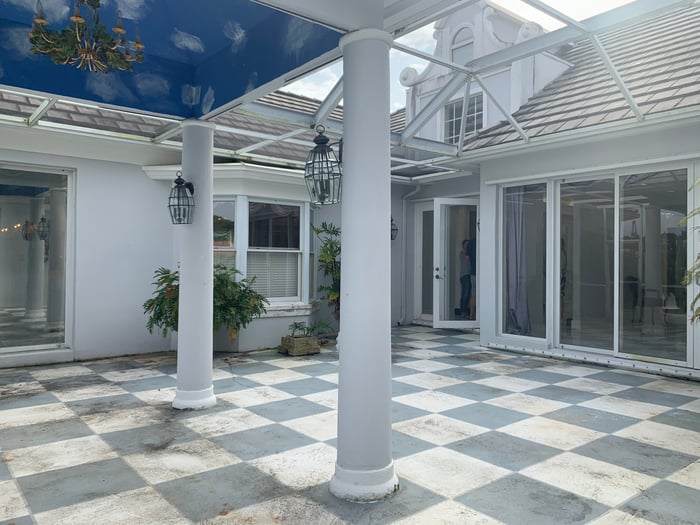 AFTER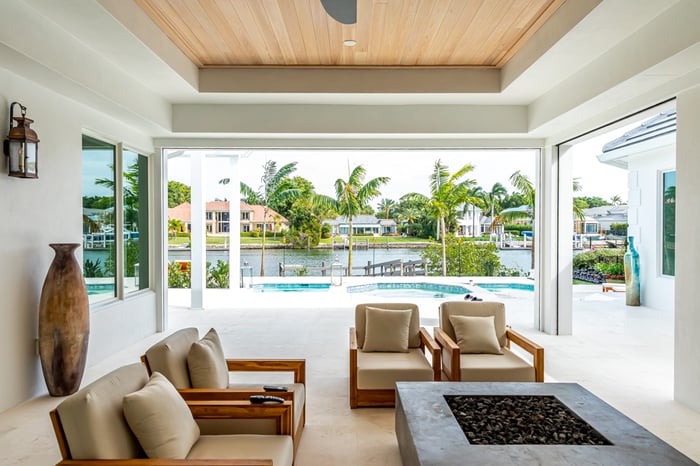 Heading back inside, we had much more to tackle!
BEFORE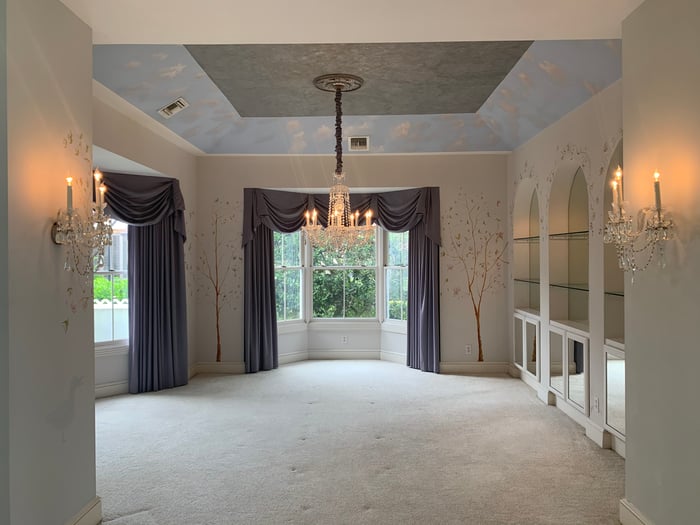 AFTER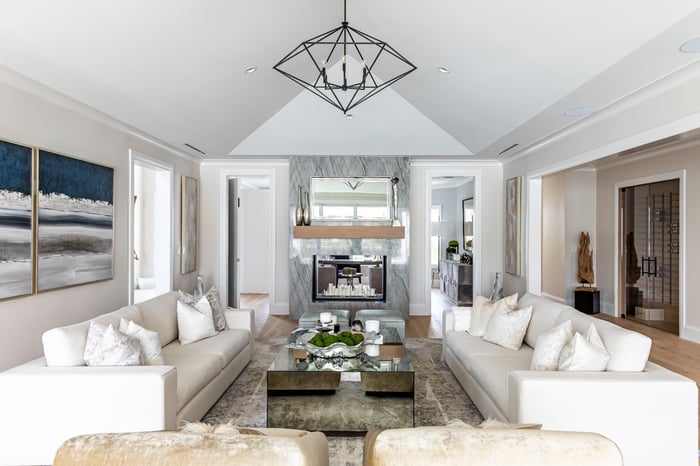 We time traveled with this design change, leaping forward a few decades. The current family room is now situated differently than it was originally. Shifting the location and layout of this room better maximizes views and flow within the home. The symmetry of the space brings balance and the slab fireplace surround offers a striking focal point, creating a space worthy of settling into. And, if you look closely you'll see the wine feature we incorporated adjacent to this space and the kitchen because what wine aficionado doesn't love a showstopper way to showcase their bottle collection?
BEFORE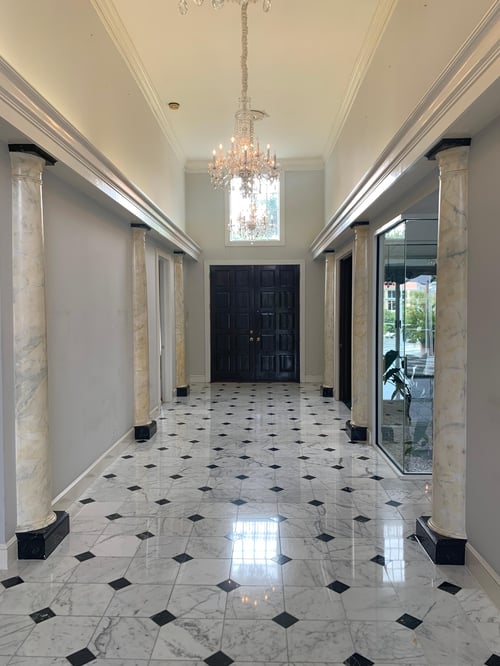 AFTER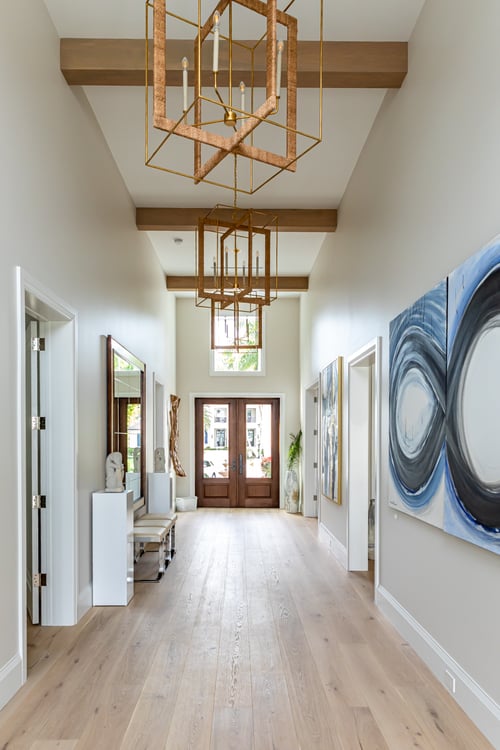 We are all about making the right first impression, but the aged formality of the existing foyer hall was not the look we felt current buyers would be looking for. We parted with the marble columns and floors, and bid adieu to the crystal chandelier and glass atrium. We replaced it with double wide, glass panel front doors that allow for a clear view to the bay from the moment you step up to the front step. It fills the space with light and when the sunlight fades, the trio of Currey & Company lighting from Hinsdale Lighting steps in to takeover. You're left feeling that this is still a grand space, but a much more modern take on a grand entrance that clearly sets the tone for the home's experience.
BEFORE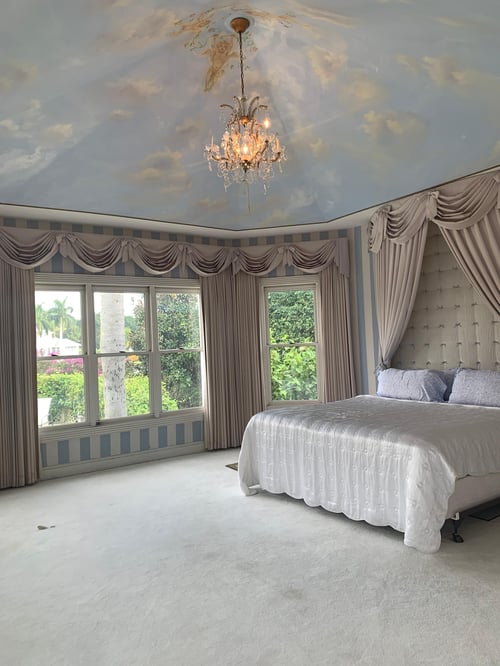 AFTER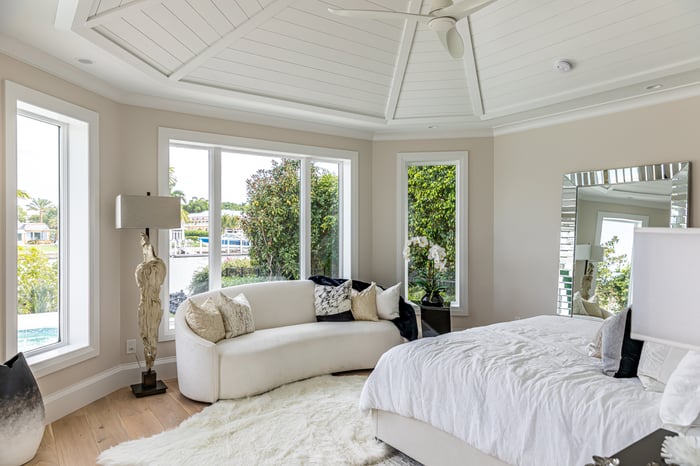 At one point in time, a frescoed, cloud-painted ceiling probably felt majestic. This is not that point in time. In its place, a shiplap ceiling was installed which still allowed the focus to be on the shape and volume of the ceiling, but feels much more coastal than the old-world-Italy-feeling of the painted ceiling. Other than that, we didn't have to do much to this space - new floor, new windows and a setup that allows the new owner to wake up to the views that likely brought them to this home.
You can view the whole home tour below. If you're ready to make this distinctive property yours, you can reach out to us or contact Victoria Clarke-Payton with the Dawn McKenna Group for listing details. We're finishing up another renovation in nearby Aqualane Shores on 17th and will be taking you through that one soon!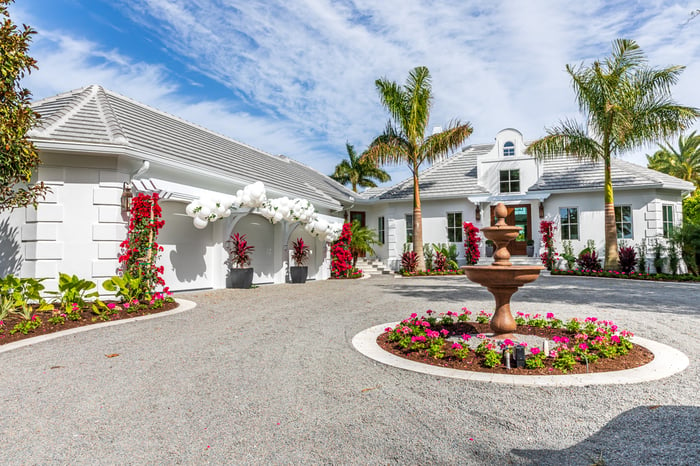 View another past Naples project here:
Interested in your own whole-home renovation or custom build? We have expertise in Naples and Chicago's Western Suburbs: