We've updated our Kitchen Portfolio and are excited to share some of our latest and greatest kitchen designs and features with you.
Hands down, the one room that the majority of our clients want to personalize the most is the kitchen. And what a fun room to dive into! There's a reason people gravitate to it during gatherings and why it truly becomes the heart of the home. Finding ways to make it look incredible is fun; custom cabinetry colors, unique hardware details, standout lighting are all ways to define style. But blending smart function in with that style is what really makes a kitchen shine.
DESIGN
Some clients come armed with plenty of vision and inspiration for their kitchen design. But it's certainly not a requirement. Our designer Heather guides clients through selections and tracks with each decision to make sure the final look is cohesive and on budget. Selections start with appliances and cabinet design and move on through countertops, hardware, backsplash, lighting and paint. It can feel overwhelming before you dive in, but taking each selection one-by-one makes it so much more manageable.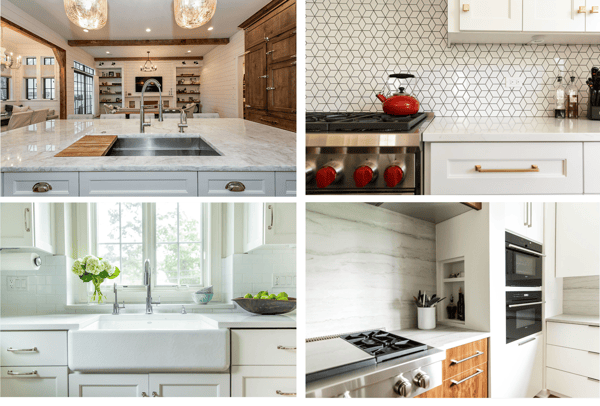 FUNCTION
We make certain assumptions when planning a kitchen and include them from the start. Custom cabinetry elements like soft close drawers, garbage can pull outs and silverware inserts are smart additions. But the world is your oyster when thinking about what other ways to customize; spice cabinet shelves, pot and pan pull out drawers, and cabinet panels placed over appliances are a few common selections we see clients making.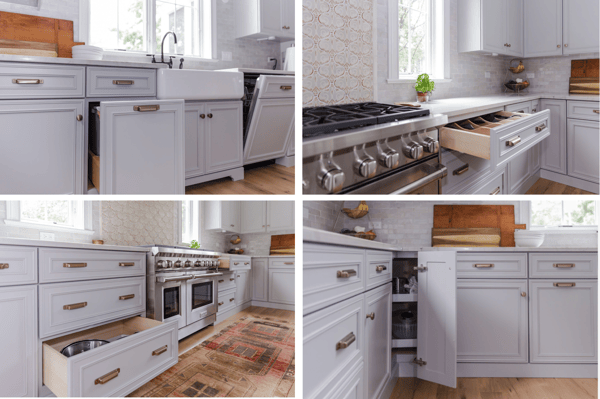 If you're starting to consider a new build or even just renovating your kitchen, start noticing what you're drawn to in other kitchens. Do you love statement lighting fixtures over the island or dining table? Are you drawn to color and want to incorporate that into your plans? Have you seen a cool tile that you'd love to see as a backsplash? Whatever is it, that can be a great springboard for your kitchen design. And we'd love to help you bring that vision together. Check out our kitchen portfolio and then contact us if you'd like to talk about bringing that vision to life!