When you have a stunning property, it's wonderful when the home can rise to the level of its surroundings. This was ultimately the goal our clients had in mind when they approached us to design their home on a beautiful, oversized property on a quiet street in Oakbrook.
When these clients purchased the lot, there was an existing home on the property that overlooks a pond and is adjacent to a forest preserve. This was a large home with a solid foundation, but that was really all that was working for this family. The interior was in need of so many updates and the flow of the home didn't work for them, so it was determined that the most economical option was to explore a plan that would take down the existing house, but utilize the foundation as a cost-saving, jumping off point for the new build.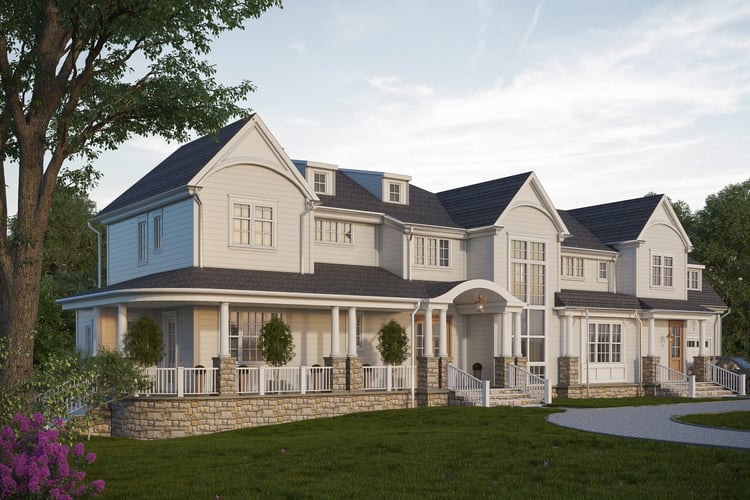 Existing Home Before Renovation Plan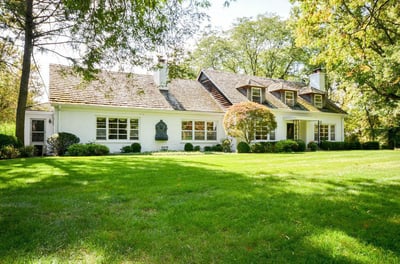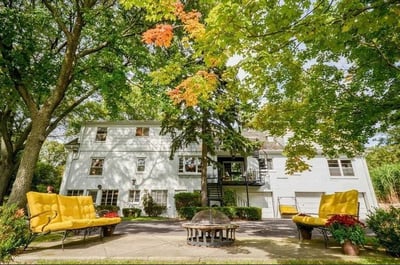 Through the architectural design phase, there were many considerations and priorities that were taken into account:
1. Maximize views of the backyard: The original house footprint was long and narrow - nearly 85 feet wide, but not very deep. This allowed for incredible views to the backyard, but inhibited some floorplan options that would make communal gathering spaces to flow better. So an addition was incorporated onto the rear of the home for some increased depth. This addition meant the plans could incorporate a music room, two powder rooms, study and formal dining room in addition to the open kitchen and living room. This new floorplan still ensures that every room has a view to the gorgeous backyard.
2. Scale the 2nd floor accordingly: Working off of the existing foundation afforded an extensive first floor footprint. That same space was not needed on the second floor so our architect was creative with blending rooflines, using dormers and varying roof shapes, to ensure the exterior looked cohesive despite the square footage difference on each floor.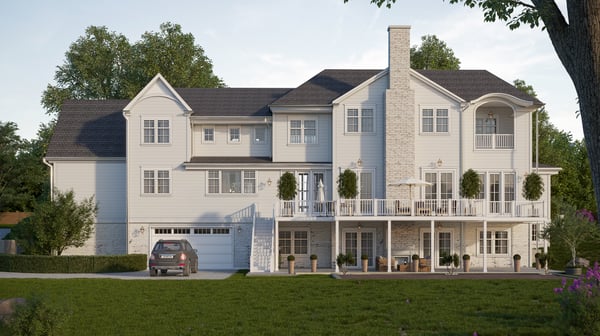 Rear View
3. Layout home elements in the most functional way: Revisiting the home design allowed the client to reposition garage entry points and add a wrap around porch that not only looks incredible, but serves as a path for better views of the property. We kept what worked about the last home and added from there.
4. Plan for the future: In addition to designing the exterior, first, and second floors - we also developed a plan for a future finished basement. And this one will wow! Perfectly positioned as a walkout to the backyard, the space is poised to add an entire 3rd level of living to this home. Floorplans factored in a game room, bar, exercise room and rec room that the family can finish when they are ready.
5. Make it look fantastic: Using a traditional exterior as the jumping off point for design, coastal elements were included to add distinction. Stone veneer accents and custom trim details give this home a welcoming, but impressive beauty that will look beautiful on this special property.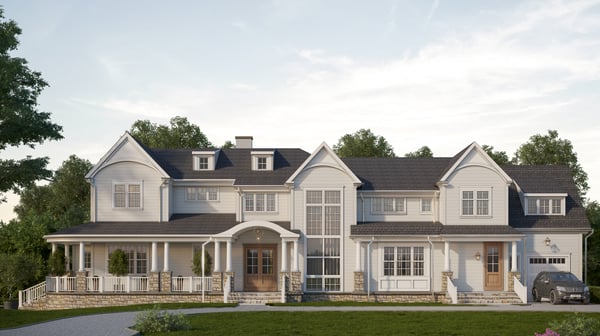 This home is a solid example of finding a gem of a property and creating the home that works for you on it. But we're here to explore the most efficient manner for doing that, whether it be a renovation, new construction - or blend of the two as was the case with this home. We love the final resulting plans of this Oakbrook estate and hope you do as well!
NEW PROPERTY AVAILABLE
426 Washington Street in Elmhurst
50x150
Blocks from downtown, the Prairie Path and Pioneer Park. Feeds into Hawthorne Elementary, Sandburg Middle School and York High School. Contact us if interested in learning about this property today!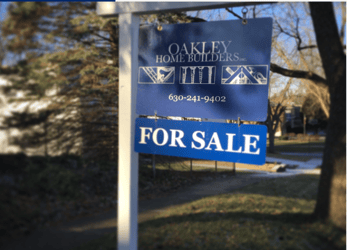 Interested in talking about your own custom home, renovation or finished basement project? Give us a shout!