If you have looked for property in-town Clarendon Hills, you know that finding a wide and deep lot is hard to come by these days. Our clients on this project are long-time Clarendon Hills residents that waited it out and found their dream lot to build on. They had custom built before, but were looking for an experience where they could have their wishes heard by an integrated architect-builder-designer team. Without a huge time pressure looming (as they already lived in the area), a thoughtful and patient approach was taken for their design process that allowed us to explore many options and dive deeply into their specific needs. Today, we're excited to share some of the preliminary details of this custom built home.
Introducing Norfolk Ave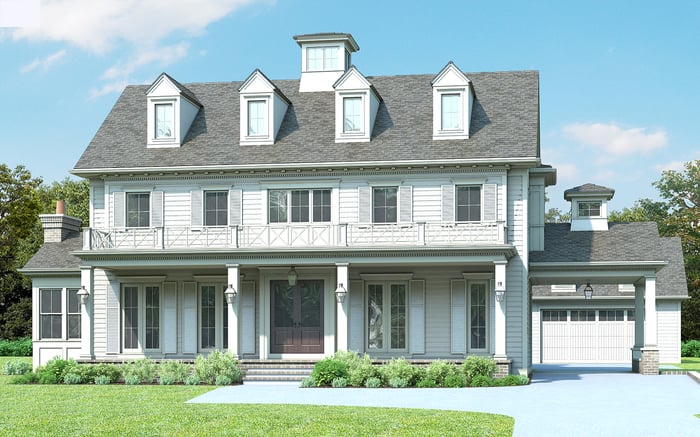 Designing this floorplan was a classic example of why custom building is the perfect solution for some clients. In this case, the owners had a clear vision for certain rooms, design elements, and how the home would flow. Our architect's job was to take that vision and make it work. As a result, there is a very personalized, yet still highly functional flow that hits the client's wish list. This includes an open concept plan in the rear for the kitchen and dining space that includes an informal gathering space. From the start, the goal was to have the family room visually separate from this rear space, so it is positioned at the front of the house with French doors that open to the covered porch. The balance of the first floor plan includes a sitting room, pocket office, formal office, mudroom and scullery. The scullery conveniently offers access directly to the rear yard for outdoor cooking and entertaining.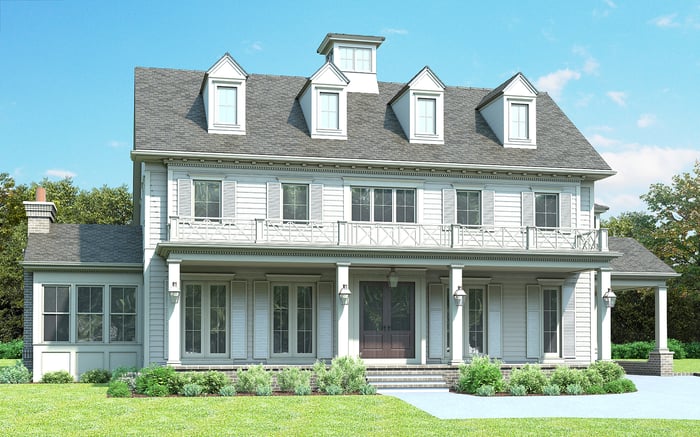 The exterior of the house draws influence from Southern Colonials. The main facade incorporates strong symmetry flanked by a pair of 1-story side wings; the formal office and a porte cochere. The home features a white on white color scheme, but a punch of personality will be brought in with a soft blue front door. There are heavy exterior trim details and a custom balustrade at the covered porch. The porch and front walks are both brick as well. All of these features keep the home classic but give it a nice dose of southern charm as well. Speaking of charm, the porte cochere has paver details and a whimsical brick sidewalk to welcome guests at drop off. Functionally, the owners will be able to drive through this to a detached 3 car tandem garage. The front yard has a soft, sweeping circle drive to allow for guests (and future family drivers!) to park.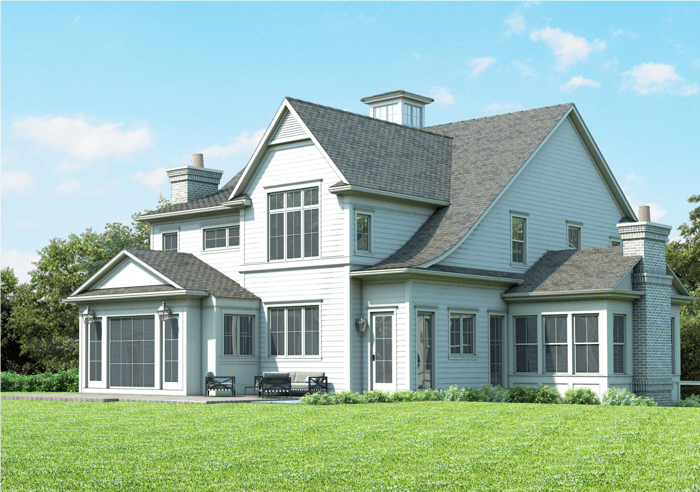 Special, thoughtful details abound inside as well. A see through fireplace allows for a warm, inviting welcome at the front entry, while also offering a design focal point in the adjacent family room. Upstairs incorporates 5 bedrooms, which includes a master suite and two sets of Jack and Jill baths. We suspect one of the favorite features of this home will be the center cupola that opens up to the interior stair, flooding the middle of the house with natural light. We know the time and attention paid to even the smallest of details here will ensure the home shines.
We are excited to share the final home tour of this property upon completion. In the meantime, check out our available properties or let us know if you'd like to search for the perfect lot for you.