Summer is fast approaching and we have a few more project kickoffs to share before unveiling the homes we completed over the winter. Stay tuned for updates on builds in Downers Grove and River Forest, but today we're taking you on a trip to Hinsdale to check out a home that merges modern style with cottage charm.
Our clients for this project are a young family from the city who were looking to make the move out to the western suburbs. Hinsdale turned out to be an ideal fit thanks to its quaint neighborhood feel, award-winning schools and proximity to the train to easily pop back into the city. They were able to secure a lot on a quiet street just west of town and then connected with our team to bring their home's vision to life.
INTRODUCING CHESTNUT STREET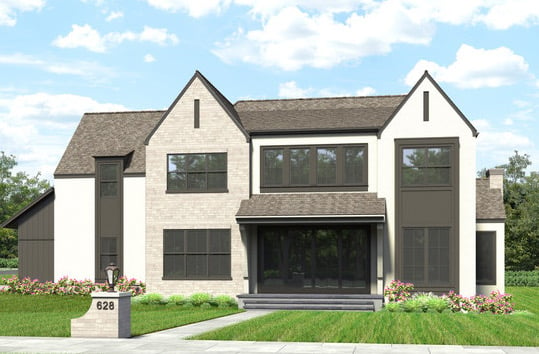 A unique advantage of custom building is the ability to design a home specifically for the lot, and we have to say that there's just some kind of magic in how well this house fits the lot it sits on. The layout of the large lot allowed us to use the 125 ft width for an expansive front elevation and sneak in a 2.5 car garage off of the alley. These clients chose a warm exterior color palette of stucco and brick to contrast with darker board and batten accents. Stunning oversized windows are a statement-making feature of this home, beaming natural light throughout the entire first and second floors.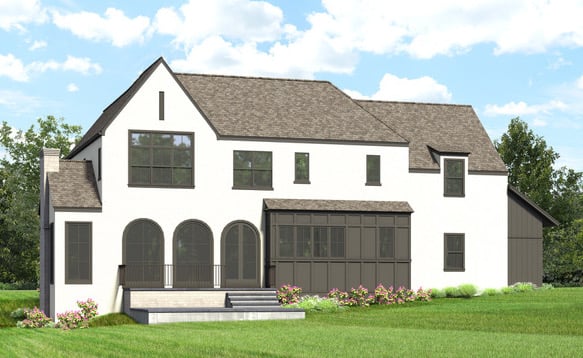 We're calling this home a modern cottage style and this inviting design aesthetic continues as you walk inside. Contemporary finishes complement timeless elements that fill the home with character. Charming arched doorways carry throughout interior spaces and a set of three arched windows drench the open kitchen and family room with abundant light. This home features 4 bedrooms, including an elegantly appointed master suite with a luxurious bathroom that could easily be mistaken for a four-star hotel.
If you're looking for a new home but not finding the right property to fit your needs, a custom build might be right for you. We'd love the opportunity to share our unique design-build approach and walk you through the process of building your dream home. Contact us to get started today.