With so many new ways to explore different home styles at our fingertips through Instagram, Pinterest, Houzz and more, the inspiration and ideas clients are bringing us can range so much. As a design-build company, this is exciting to see and we are thankful for the opportunities to do such a variety of work. We love being able to really customize a home that is perfect for each client. Case in point; our latest client came to us armed with inspiration, knowing they wanted to imbue a major modern vibe into their new home. Check out what we're working on for them:
INTRODUCING LEE AVE
(Consider this Lee Ave #2 as we just wrapped this Lee Ave earlier this year! Final photos to come.)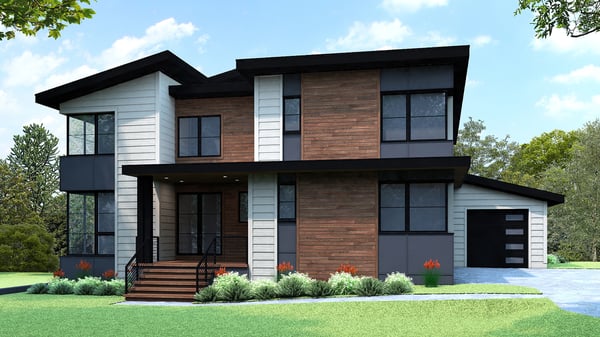 For the past several years, this family had lived in a more traditional-style Oakley home. They were the second owners of this home, meaning they didn't custom build with us the first time around. As their children have gotten older and they saw how their lifestyle was evolving, they decided it was time for a change. While they loved their home, they found that it had rooms that they didn't necessarily need anymore and that their style preferences had changed too. As they started considering what an ideal new home layout and aesthetic would look like for them, they found a hard-to-find, hilltop, 80' wide lot in northwest Downers Grove that was for sale. This size lot afforded some flexibility in the home's layout due to the width of the land, but it also put them much closer to their children's junior high and high schools - double win! With the lot identified, we were so happy to dive into planning for their contemporary style home.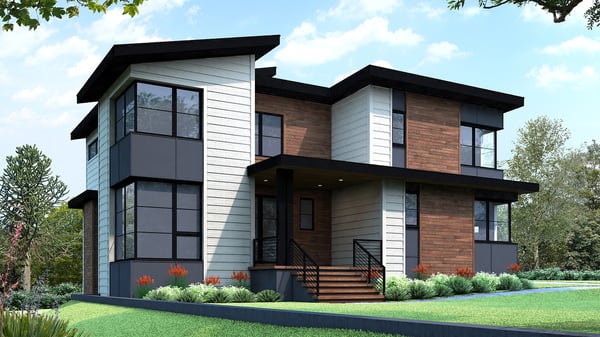 As we discussed plans there were a few key things that these owners wanted to be sure to incorporate and address:
Contemporary Aesthetic. This was one of the primary goals from the outset. We explored styles from modern, to mid-century modern and all of the nuanced elements in between to find the right design for these clients. They came armed with ideas and inspiration that helped our architect and team kick off plans. The final design and architectural plans balance being modern in all the right places. On the exterior, deep overhangs in a dark finish create strong horizontal elements both at the roof line and the covered front porch, while details like the railing style complement the over look. We are still exploring final exterior materials and colors - specifically comparing natural wood siding with low maintenance versions to ensure we get just the look our clients are aiming for. Stay tuned for the final images towards the end of the year!
Develop a layout that mirrors the rooms used in their current home.
This meant a simplified floor plan with no living room or dining room and keeping a very open concept for the family room, kitchen and dinette. Smart investment in functional space! Upstairs, an extra bedroom was made slightly bigger than the other kids' rooms to serve as a teen hangout room. This will offer plenty of room for friends and gaming - as they found their kids preferred this over hanging in a finished basement space.
A focus on windows. This was a priority feature and we've incorporated that request in in spades. Huge windows wrap around the corners of the front elevation with low maintenance siding panels between, creating a dark tower in contrast with the warm white siding. We've also made sure that the view from the windows can be a part of the home's decor. For example, see how these master bedroom windows will perfectly frame the treetop views and changing seasons.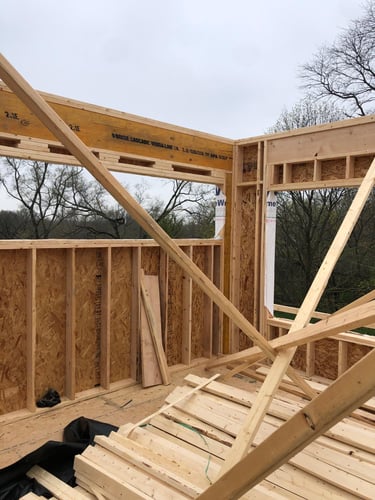 Take advantage of topography. Building off of the last note about windows, the grading on the site allows for three floors of windows and natural light at the southern elevations. We looked for every opportunity to take advantage of this land and it will make a big impact inside the finished home.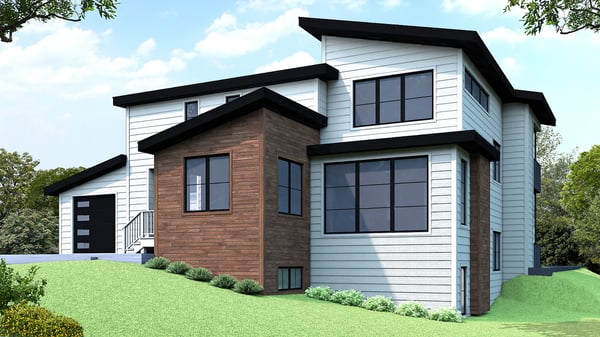 We are so honored to get to work with this fantastic family that has already been a part of the Oakley family for years. They are going to create some pretty incredible memories in this new Oakley home - and it's going to be an amazing addition to this prime Downers Grove neighborhood.
Have questions about Oakley's new construction custom home build process? Don't hesitate to reach out. We'd love the opportunity to provide you with information and answers.