It's no secret that coastal style homes have a special place in our hearts and we're thrilled to share our newest one with you today. It might just transport you all the way to Nantucket and we truly can't think of a better way to spend an afternoon!
Our clients for this project are returning home to Naperville after spending a few years in a picturesque New England shore town. Lucky for us, they wanted their new home to reflect the charming coastal design aesthetic that they fell even more in love with during their time out east. We are fortunate to be partnering with the brilliant team at Amy Storm & Company on this project which they have cleverly coined "New England Meets Naperville". We couldn't imagine a more fitting moniker as we work to bring this home to life!
INTRODUCING NORTH LANE
All of the classic elements we love in cottage-style designs come together to create this home's exterior. An inviting bluestone covered entry is flanked on each side by gambrels with distinctively coastal shake siding. Raised panel wood shutters complement the timeless lap siding which wraps around the home. If the curb appeal hasn't already won you over, thoughtful landscape design and sweet window boxes will provide the perfect finishing touch to the front elevation.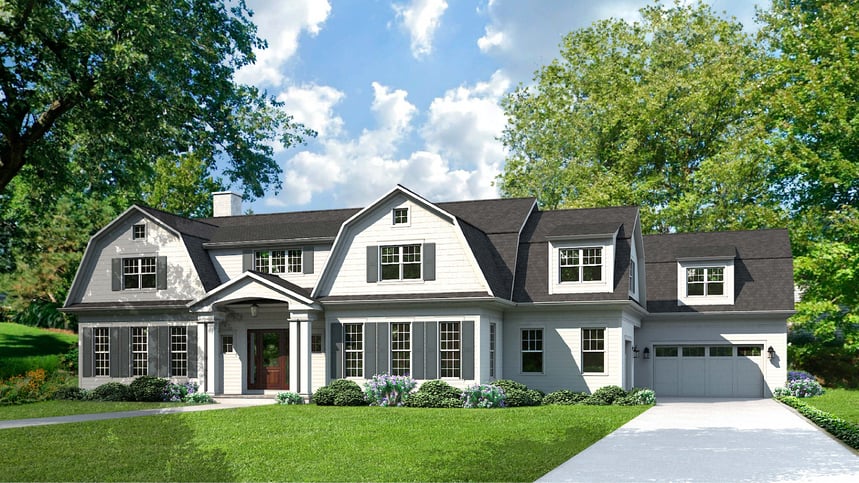 The traditionally coastal design aesthetic continues throughout the interior of this 4 BR home. These clients poured so much love into the plans for each space in their home as they envisioned the memories they'll share together here – even the placement of the Christmas tree has been discussed! The first floor layout was expertly designed to match the needs of this family's day-to-day life. Stepping inside from the garage, you'll not only find a practical mudroom for the kids, but also a laundry room with plans for the most adorable dog-washing station we've ever laid eyes on. A formal dining room and den flank the front entry but lead into more casual everyday spaces – an open kitchen, family room, and sunroom. The bright kitchen overlooks a gorgeous sun-drenched breakfast nook with views of the pool and direct access to a bluestone covered patio.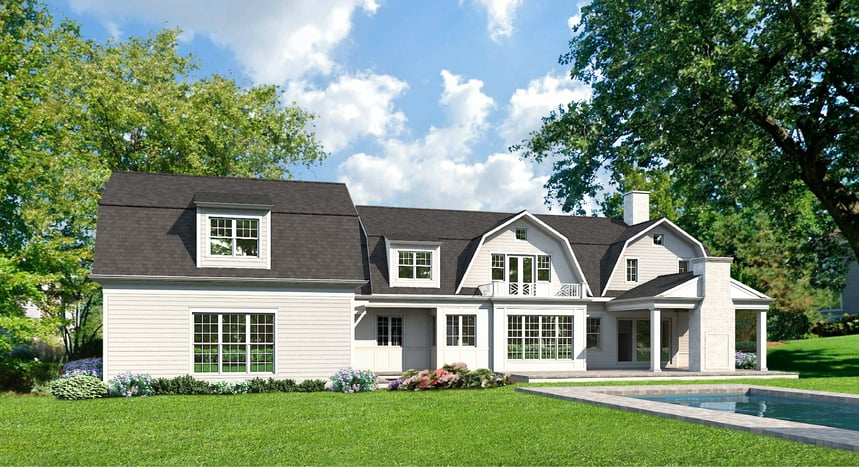 The rear elevation of this home directly rivals the charm of the front and provides a backdrop for a stunning suburban retreat. Double gambrels are carried through with the addition of a lovely Chippendale balustrade off of the master bedroom balcony. We're imagining slow mornings spent sipping coffee (thanks to the master bathroom coffee bar!) while looking out on the expansive backyard and pool. A planned pool house will match the exterior design of the main house and provide the perfect spot for family and friends to gather to enjoy sunny summer days.
If this home has you dreaming of your own suburban haven, contact us to discuss the next steps to bring your vision to reality. Our differentiated design-build approach provides both an efficient and enjoyable process for custom building.
Looking for the right lot for your custom build? Click the link below to check out our available properties in Downers Grove and Elmhurst. We'd love to partner with you to find the best location for your dream home.