The secret is out. Tucked behind the grounds of St. James Farm is a private pocket of Wheaton that two of our recent clients have fallen in love with and set about building their dream homes on. This specific area offers ample lot sizes, an abundance of mature trees and a notable lack of through traffic - making it the perfect place for a peaceful retreat that still manages to be steps from highways, schools, shopping and more. The perfect mix, right? We recently wrapped up our first project on this street and can't wait to share final images, but our second project is well underway and we have to tell you all about it!
INTRODUCING MADISON ST - Take 2!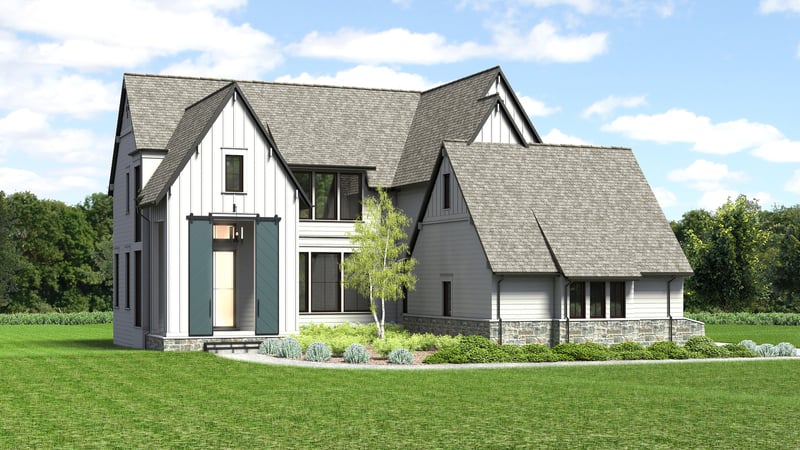 After kicking off the home build next door that we mentioned, this client approached us to discuss their own project. Similar to their neighbor, they already had architectural plans from Moment Design. Prior to finalizing estimates on this project, we partnered with our clients to provide upfront information that allowed for smart build choices to maximize budget, lot size/orientation and more.
In constructing this 5BR, 3 car garage home, we'll be turning to a mix of materials on the exterior such as stone and board and batten while also incorporating statement elements like the unique barn-door style front door that leads to a covered front entry. The design incorporates clean, vertical lines and striking pitched rooflines and plenty of oversized windows, all of which we are excited to bring to life.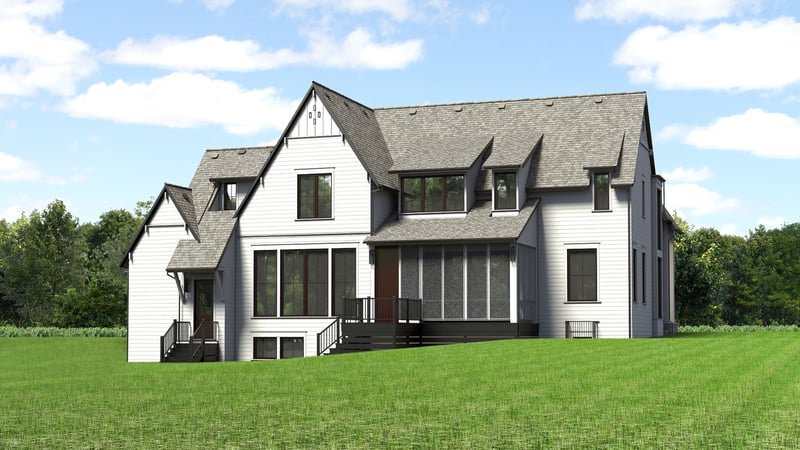 The rear of the home will allow for the homeowners to soak in all that this deep, private lot has to offer. With a dining room overlooking the backyard and a screened in porch made for lazy summer days and buggy summer nights, this rear elevation will be constructed with elements fitting of this level of design. As you move back to the front of the home, the split 2/1 car garages are thoughtfully tucked into the design so as not to be a focal point of the home's front elevation. We will incorporate landscaping, paying particular attention to the front courtyard that the covered entry and family room wrap around.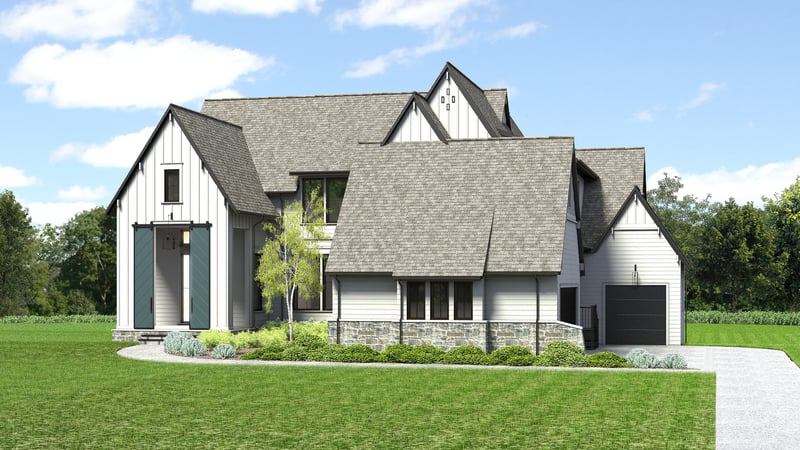 The basement of this home is another area that we know will be the hub of activity in this new home. This deep pour, finished space will be complete with a game room, fitness room, media room, bar and guest suite. This home offers up so many options for at-home fun and enjoyment both indoors and out. Selections are well underway with our in-house design team and we can't wait to get this family in and enjoying their new sanctuary by fall.
Searching for a home and not seeing anything existing that you like? Don't hesitate to reach out to us if you'd like to discuss a custom build. We're here to help guide you through identifying towns right for you, help you find lots perfect for building on, and work with you to design the home you've always dreamed of.