As the weather gets warmer, sunnier days are on our minds, and today we're excited to share a project kickoff for a home that shines with beautiful outdoor living spaces. This is one of a few project kickoffs we'll be announcing soon, and we look forward to sharing plans in Hinsdale, River Forest, and Downers Grove in the coming weeks.
We can easily imagine why our clients fell in love with this Burr Ridge lot. Nestled in a private area of town, a gorgeous winding road leads to a sprawling property. The home they've dreamed up is truly a suburban retreat that feels worlds away. We partnered with Schwarz Lewis Design Group on the architecture and are teaming up with Dawn Reeves Design on the interiors.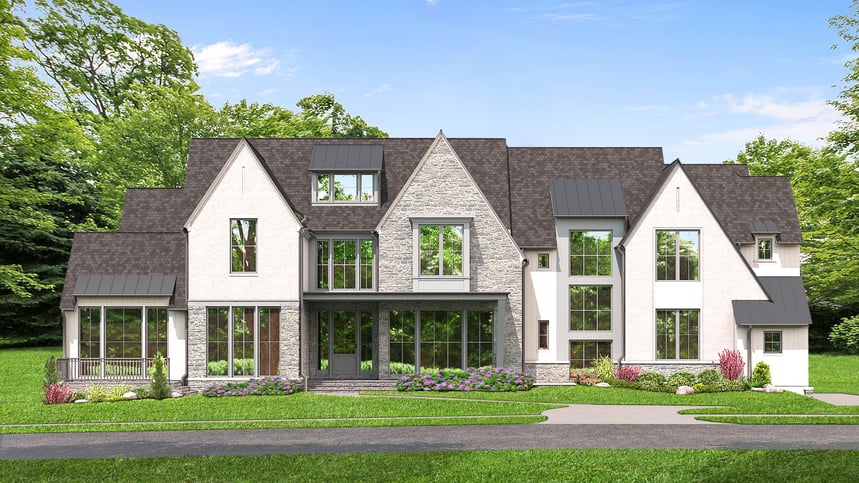 From the moment you lay eyes on this home, stunning oversized windows steal your attention. They wrap around the entire exterior, beaming abundant light throughout interior spaces. The transitional exterior design features organic materials of stone and stucco blended with vertical siding. Metal roofing provides a fitting contrast to the warm color palette. One of our favorite aspects of the front elevation is that it takes full advantage of the width of the lot, with each section of the home a natural extension of the space.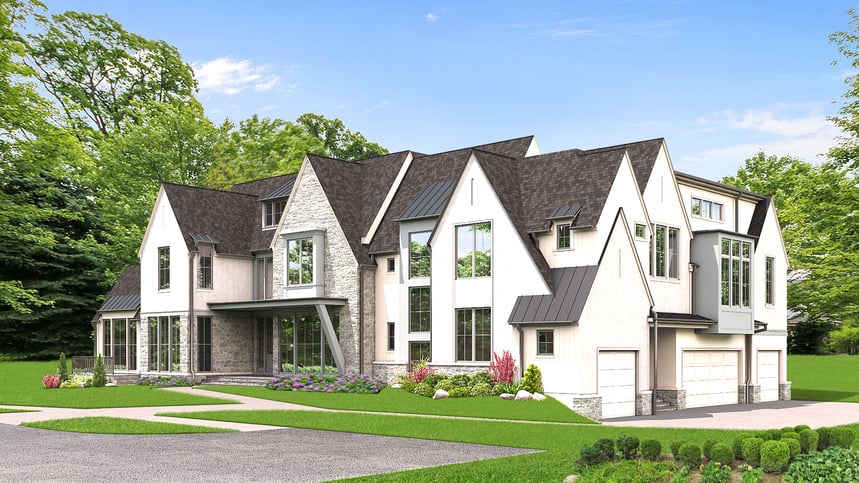 One of the main reasons our clients were looking to build a custom home was that they needed a layout that would be a better fit for their family's lifestyle. We worked closely with Schwarz Lewis to design a floor plan that accurately reflected the way in which they would use each space on a daily basis. With working from home becoming more prevalent for these clients, significant time was spent discussing home office layouts. The front terrace is actually an extension of one of these office spaces, providing an easy outdoor escape from the land of conference calls. Luxurious finishes abound throughout this 5 BR home which features 10 ft ceilings throughout the first floor living spaces. On the second floor, you'll find 4 bedroom suites (including an elegantly appointed master with his and hers closets), an exercise room, and a light-filled sport court sitting just above the garage. The basement includes an additional bedroom suite, an office, bar, game room, family room, and playroom.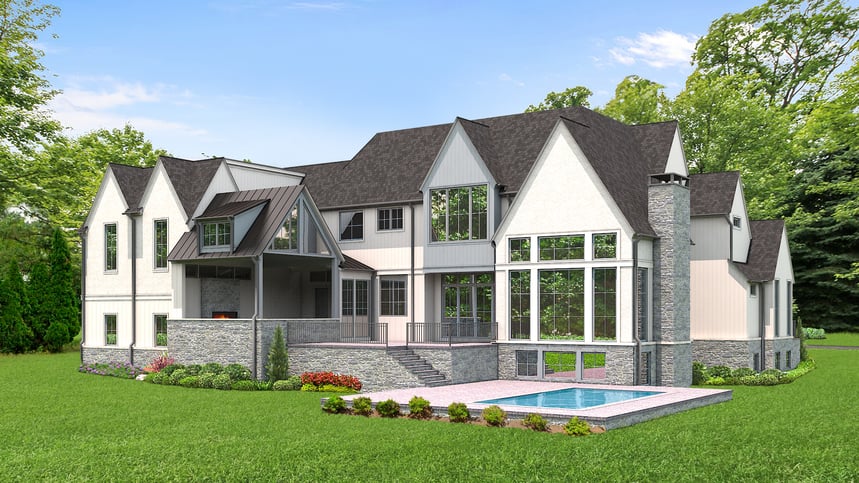 As much as we love this home's interior, the outdoor living spaces truly put it in a class of its own. Step outside the breakfast nook and you're greeted with an elevated outdoor kitchen and bluestone covered patio with fireplace. A stone stairway leads down to an inviting pool and patio area. We could spend all day catching rays in this stunning backyard and look forward to it being a welcome retreat for this family.
Looking to design your own private retreat? We'd love to partner with you to bring your custom home dream to life. Contact us to learn more about our unique design-build approach and take the next steps toward your build. Ready to start looking for a lot? We'd be glad to work with you to help identify the perfect property for your new home.