The renovation journey is unique for each one of our clients and every once in a while it can actually start with a custom build. These clients came to us with their hearts set on a large lot with room for a pool and pool house, but still hoped to be walking distance from downtown Naperville. They were aware that the number of potential properties was small and that they might need to wait quite a while for one to be willing to sell.
As luck would have it, they did end up with their dream lot but it just came in a different form than they initially expected. A newer home hit the market on the private cul-de-sac of Forest Avenue, just a few doors down from a home we built a few years back. This coveted block is a rare find – it feels quiet and secluded yet is just a stone's throw from downtown. The opportunity to be on an expansive lot in this incredible location was one our clients couldn't pass up, and we got to work drafting a plan to renovate the existing home to match the custom inspiration they had in mind.
INTRODUCING FOREST AVENUE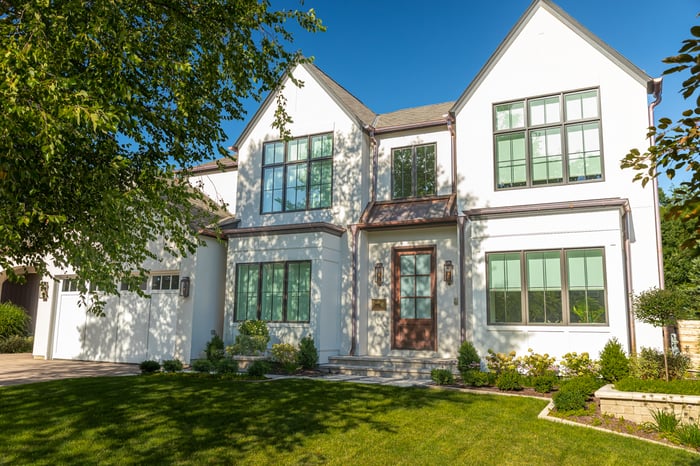 The existing home was just over a decade old, so it didn't need the mechanical upgrades that vintage homes can often require. Instead, we focused our efforts on two priorities: 1) redesigning the layout to better fit this family's lifestyle, and 2) transforming a traditional home into the Modern English Tudor they initially envisioned building.

The exterior of the home received a significant overhaul with the removal of all existing siding and the front porch entry. A warm tone stucco was chosen as a lovely nod to traditional Tudor style and pairs well with contrasting grey windows and trim. Soffits and fascia were stripped away, adding emphasis to the modern pitched rooflines. A copper standing seam entry roof and complementary copper gutters were luxe selections that majorly amp up curb appeal. As we worked to redesign the layout of the home, the one-car attached garage was removed and instead became an elegant arched porte-cochère. We can't wait to show you where it leads to!

The first floor layout was completely reconfigured and the existing kitchen and family room area became the new casual dining and kitchen spaces. An oversized oak island anchors the now sun-drenched kitchen, while perimeter cabinetry is stained a darker hue. The backsplash was thoughtfully designed to incorporate the same brass tone that carries through the hardware and fixtures.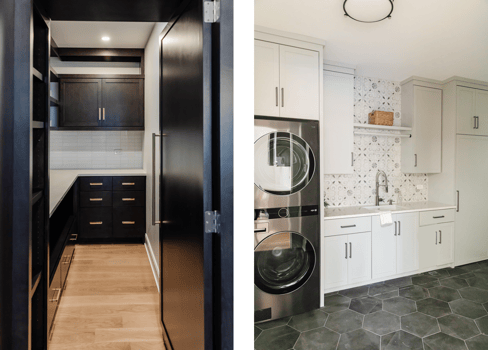 One of our favorite features of the new layout is the how the walk-in pantry was hidden behind cabinetry, naturally blending in but functional at the same time. A laundry room/mudroom was tucked in just off the attached garage and we're smitten with how the sweet green cabinetry tone pairs with the patterned tile.

An addition allowed for the creation of a massive, light-filled family room space featuring a custom wood paneled fireplace and modern floating shelves.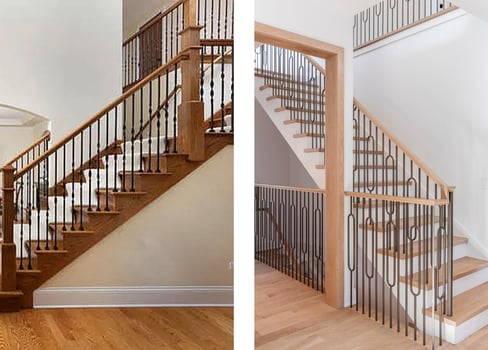 The previous stairway was reworked to become a contemporary floating staircase aligned with the new design aesthetic. Downstairs the existing basement was remodeled to accommodate a rec room, media room, bar and exercise room.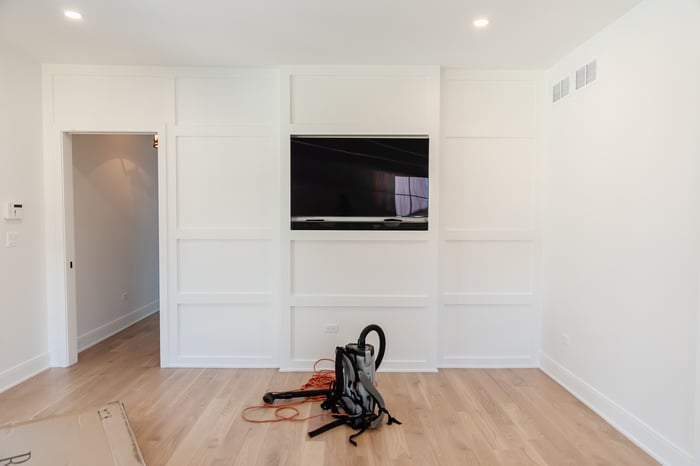 A first floor master suite was of primary importance to our clients and we worked to design a private retreat on the main level. The existing laundry and study were reconfigured and paired with the new addition to become a spacious bedroom, bathroom and walk-in closet.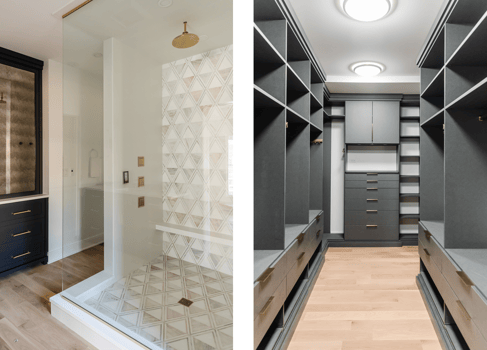 The finishes in this bathroom are true show-stoppers, from the antique mirrored glass vanities to the stunning patterned tile shower. As for the closet, we're calling it a walk-in, but it feels a bit like its own wing of the house and we're majorly jealous of all that storage.

From the beginning, our clients were focused on designing a home that celebrated outdoor living and now we finally get to show you how we brought that dream to life. The covered porch was swapped for a more elevated entertaining space complete with a fireplace (check out that patterned tile!), casual seating area, dining area and luxe outdoor kitchen.

Another view shows how this backyard was reimagined into a secluded outdoor oasis. We know it will be the place to be come summer!

After seeing this final before shot, you can probably imagine why our clients fell for this lot in the first place. It allowed them to have the patio and pool area they always wanted but not lose the yard. There was even space to construct a separate pool house/garage that we cleverly tucked in out of view from the front elevation.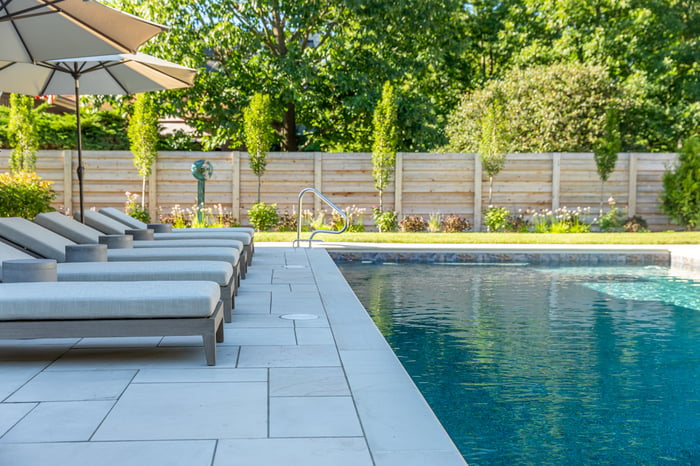 We'll leave you with this last shot as a nice reminder of days that were not so filled with snow. Looking to see more of this home? View the full gallery below.
If you'd like to enjoy a view like this next year, it's the perfect time to start discussing how we can make that happen. As this renovation journey demonstrated, there might be a property out there that is waiting to be redesigned into the home you've been dreaming of. Our strategic partnership of real estate, architecture, design and build teams are ready to help you navigate the process from start to finish. Contact us today to learn more!