Reimagining classic homes is one of our favorite things to tackle. There is something so satisfying about finding an older home that has potential and so much life still left in it, and breathing new life into it for a next generation. That's exactly what we worked with our clients to do with this English Tudor style home in an oh-so-lovely part of Western Springs. Come take a look at this refreshed gem!
INTRODUCING LAWN AVE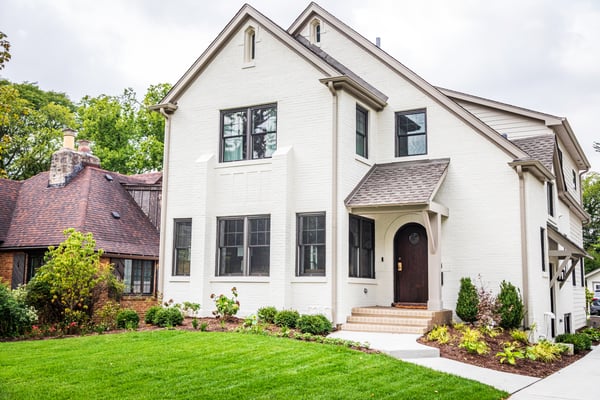 When we first met with this couple, they knew they wanted to explore a renovation so finding the right property was top on their to-do list. They wanted a home that would have the character of an old home, but as home-cooks and entertainers, they also wanted all the new bells and whistles. When we toured this home with them they were immediately drawn to the good of it; arched doorways, high ceilings and a layout that would serve as a good base for expansion. We used that as the inspiration to hang on to what was special about this home and expand it slightly to make it as functional as possible for this family. As an added bonus, they turned to our friends and Park & Oak for additional design vision. This is always a surefire way to make a homes final design shine. We took photos before final furniture install, but couldn't wait to share the transformation.

So, how'd we do? This exterior was definitely in need of a landscape overhaul, but paining the brick this lovely white color (Benjamin Moore Windsbreath) really makes it shine.

Confession: This kitchen transformation is a bit of a cheat because the original kitchen is now technically the mudroom (more on that later!). The majority of the kitchen and family room is an addition to the rear of the home. The kitchen itself opens to a large living space and flows into the dining room. The large island functions as great prep, serving and hangout space. We're big fans of the arched glass cabinetry that gives a lovely nod to the arched doorways in the home.

This entryway didn't technically change that much, but is a fantastic example of the power of details. Paint, updated lighting and beautiful molding/trim work take this space from charming to insanely beautiful (we're clearly not hiding our opinion at all here!).

Same goes for this space. These clients loved the sunny 3 walls of windows. We kept the black interior window color, continued with the detailed trim work and updated floor stain and paint color to the space. Carrying the paint color from walls to baseboard and trim only serves to make the room look even taller.

While we knew the red walls had to go, this room was a great opportunity to change the doorway to echo the arched doorway at the front door and foyer. We also used it as an opportunity to add some cabinetry for added functionality and customization.

We realize this may not the most interesting view of the project, but it gives context to how we expanded the space in the home. An existing single floor addition in poor condition was removed. In pace of it, a rear addition was added that includes the family room/kitchen and master suite above. The result leaves you feeling that this was what the home looked like from the start.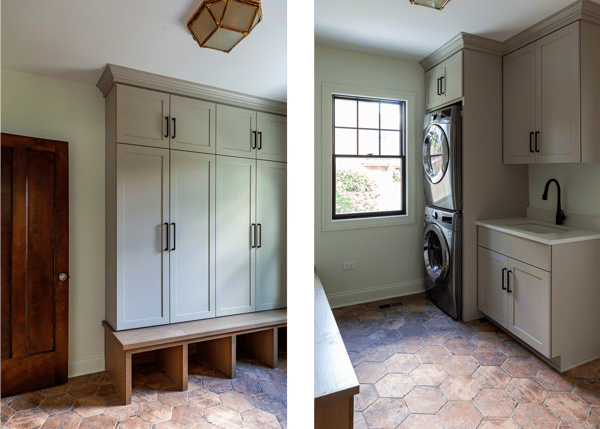 Remember that kitchen space we shared? Well this is really what that small galley space was used for. This mudroom provides an everyday entrance for the family from the side of the home and keeps their laundry station at arms reach.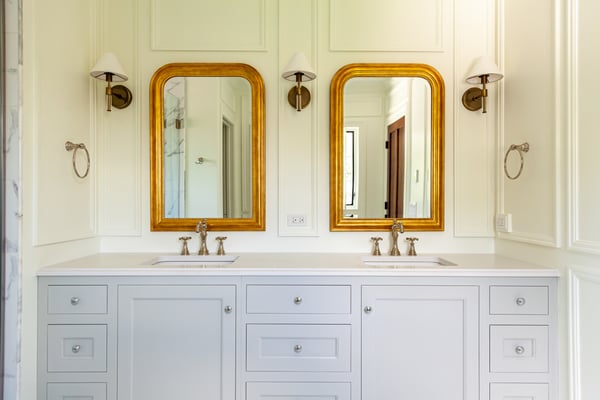 The ask from the client for their new master suite: "Give us a bathroom that makes us feel like we're in a luxury hotel". With a spacious walk-in shower and elevated trim work showcasing this double vanity, we think the final space delivers on what they were looking for.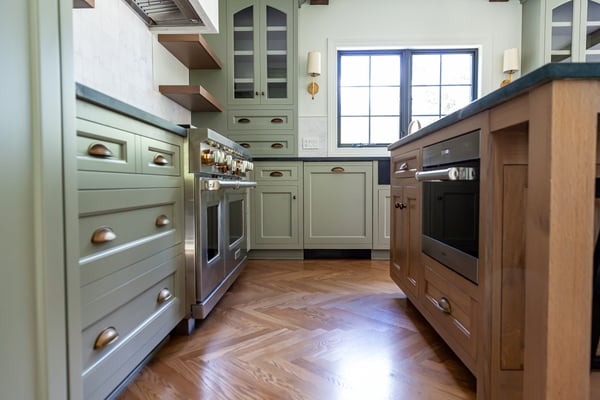 We just love this kitchen so much, we couldn't resist sharing a close-up. And honestly, we could stare at those herringbone wood floors all day long.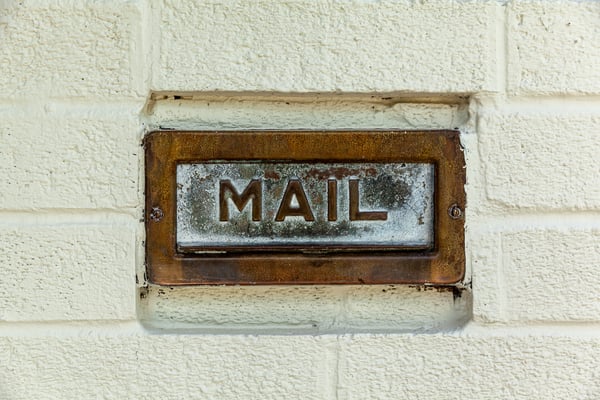 Keeping true to the goal of keeping all that was good and charming, this sweet mail slot had to stay. Such a great nod to where this home has been.
We hope you enjoyed this tour. With several renovation projects underway, we're loving the renewed interest in beautifying homes worth saving. If you'd like to talk about renovating your property or searching for a renovation just right for you, please reach out. We're happy to arm you with some general budget guidelines for your search and help you navigate the process once you find a home. Our integrated team of architect, designer and build team is best utilized when you're considering a large scale project such as this. You'll get the value of our expertise delivered in a seamless process.