If you've driven down Hinsdale's Bruner Street over the past year, you might notice that a quiet corner has become a hub of activity for the Oakley team. We are fortunate to be working with two wonderful families to put down roots here and are looking forward to the many memories these next-door neighbors will make on Bruner Street. While our second build is finishing up soon, today we're excited to be able to share a tour of our first one.
INTRODUCING BRUNER STREET #1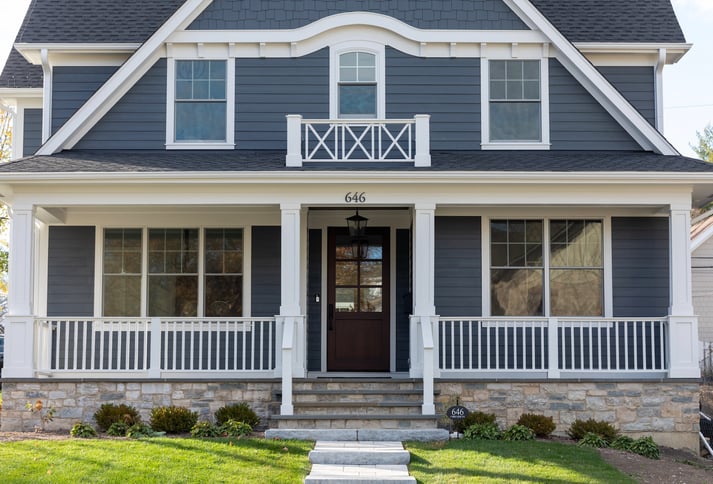 This home's exterior is quintessentially coastal, bringing a slice of New England splendor all the way to Hinsdale. We incorporated the classic elements of this timeless design aesthetic - shake shingles on the gable, nautical trim accents and a lovely balustrade above the sweet front porch. The gray-blue siding delivers on the seaside-inspired color palette.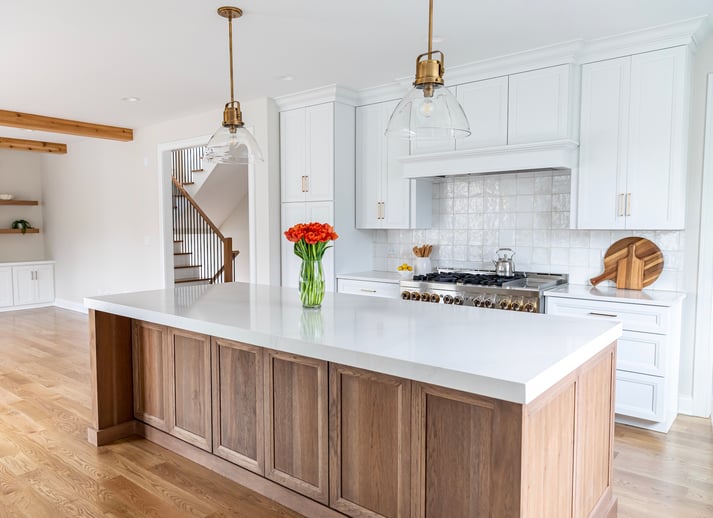 When creating a home with a coastal aesthetic, we like to balance traditionally bright interiors with natural elements such as wood to bring in warmth and texture. This kitchen is a beautiful example of this approach as the stained wood island couldn't be a more perfect complement to the painted white cabinetry on the perimeter.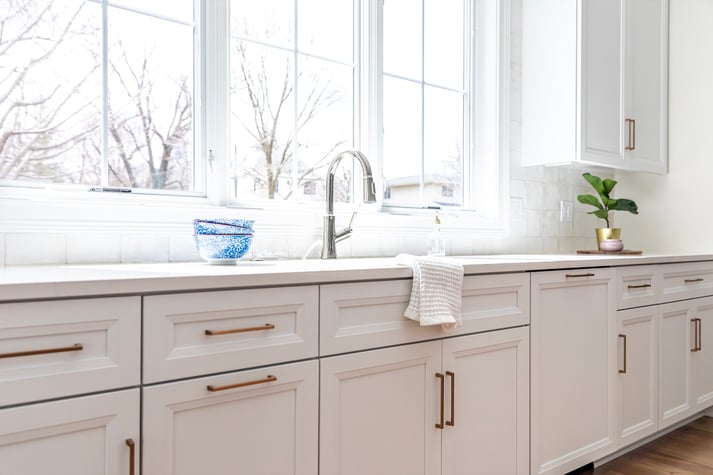 Sink placement is an important element of the discussion when we're designing the kitchen floor plan with many clients opting to place it in front of windows. When it creates this warm and sunny view, we can understand why!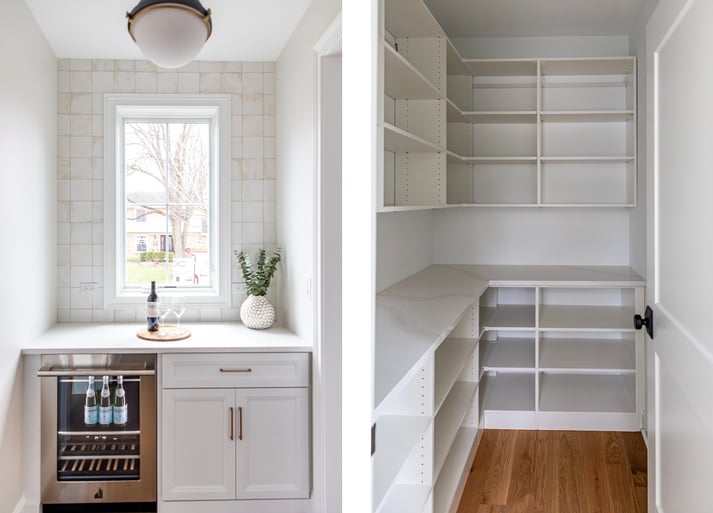 The beautiful artisan tile from the kitchen carries into the butler's pantry.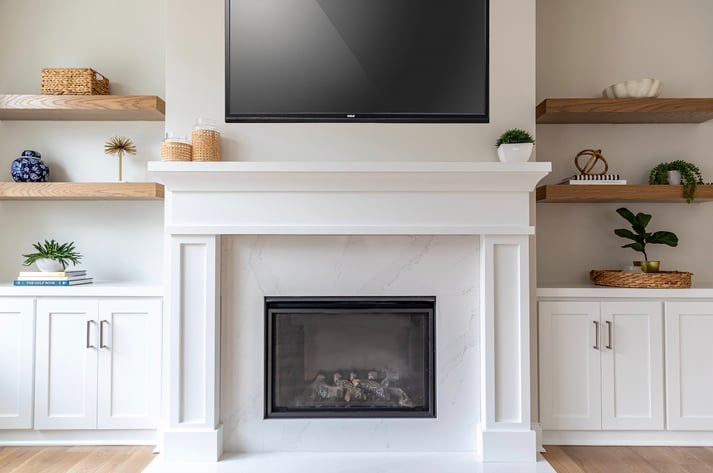 This coastal family room was thoughtfully designed to incorporate a practical combination of cabinetry for storage and floating shelves for display.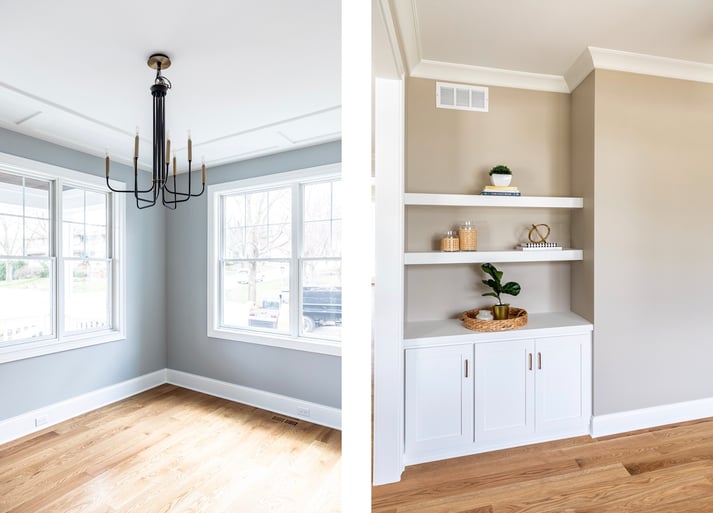 Flanking this home's entry are a light-filled formal dining area and conveniently-placed office space with built-ins.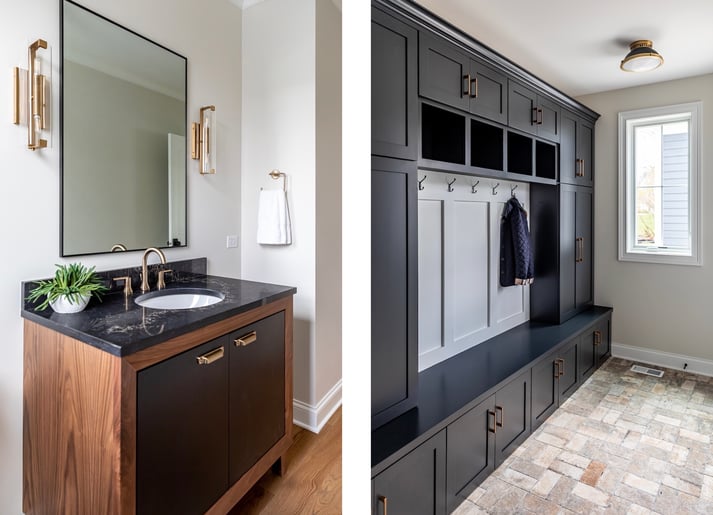 The powder room's furniture-style vanity was custom designed and the chosen stain showcases the dramatic, rich wood grain. One of our favorite materials for mudroom floors is porcelain brick tile (we're all for durability!) and this space features a local Chicago brick selection in a basketweave pattern.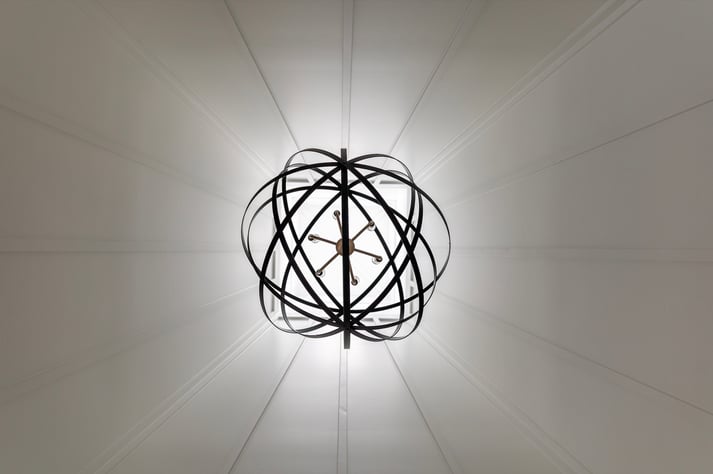 Many elements throughout this home give a nod to nautical design, and we love the sun-drenched view that the cupola creates in the second floor landing.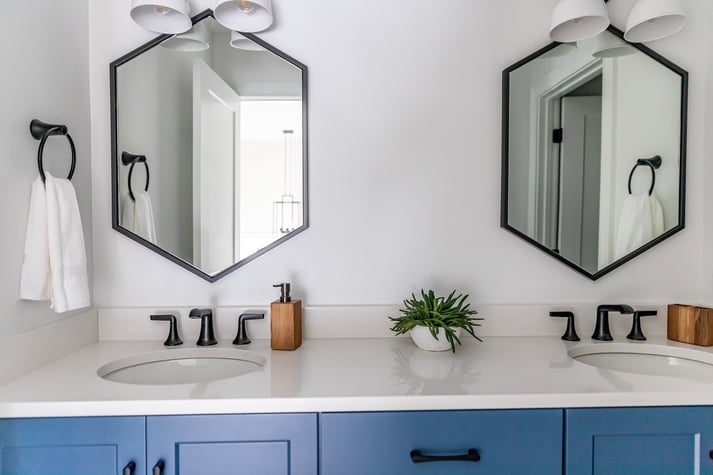 A brilliant blue adds a playful pop of color in the double vanity of this kids bathroom.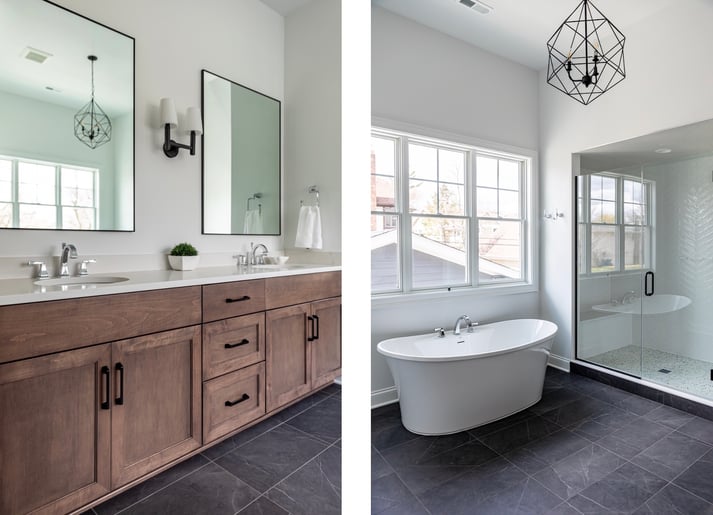 Just down the hall, the master bathroom has a serene, spa-like feel with a luxe soaking tub and walk-in shower.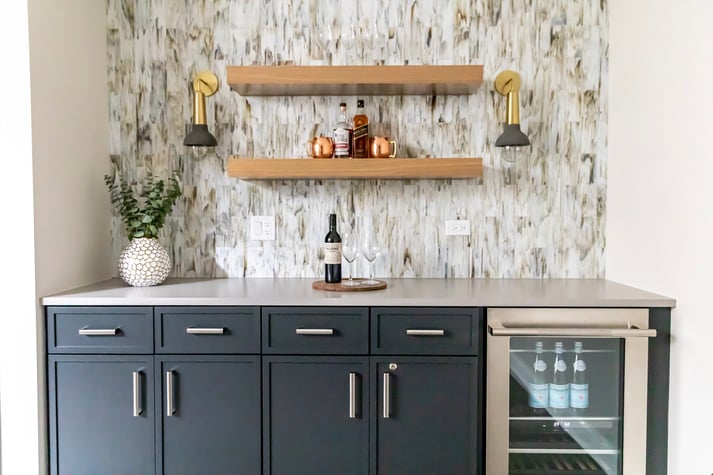 The finished lower level of this home was designed for entertaining. This swoon-worthy bar area makes a statement thanks to a downright gorgeous tile selection.
We're thrilled for this family to finally call this corner of Bruner their home and are working quickly to move their next-door neighbors in. Although these homes will sit beside each other, they both have their own distinct style. Our second build evokes an organic modern aesthetic and you can explore our plans in our project kickoff. Stay tuned for the home tour coming your way this summer as well as project kickoffs in Hinsdale, Clarendon Hills and Downers Grove.
If the timeless charm of this classic coastal home has you envisioning your next move, we'd love to start discussing how we can work together to bring it to life. Our team is strategically positioned to guide you through a lot or renovation property search and into a timely, efficient build process. Contact us today to learn more about next steps.