For anyone that has kicked off a home build or renovation project, you know finding an architect is an integral part of that process. But that search can bring a handful of questions or concerns along with it; Can an architect design a home that will stay within my budget? Will my builder and my architect work well together? Can I find an architect that will listen to my wish list and translate it into a functional floor plan?
Oakley saw an opportunity in the home building process to make the answers to these questions more predictable. While many builders solely work with outside architects, the majority of our homes are designed by our in-house architect Jen Hense. By pulling Jen's talents into our team, we can better predict/control our clients' budgets, share information seamlessly from architect to builder, and have confidence in Jen delivering on client's wish list due to her depth of experience.
MEET JEN
Jen hails from Indiana and graduated from Ball State with her degree in Architecture. After nearly two decades of working at an architectural firm in Chicago, Jen joined the Oakley team. She is a Downers Grove resident and loves that she's now designing homes that are built in her town and the surrounding areas. Her kids think it's pretty cool too. We chatted with Jen about her role on Oakley and, more broadly, about home design in general.
WHAT IS YOUR APPROACH TO HOME DESIGN?
I start by listening. I went into residential architecture to deliver homes that meet my clients' needs, both functionally and aesthetically. At the end of any project, I want it to be the house that my clients want. It's never about what house I want. So I start with really listening to our clients; how they live their life, what's important to them, what they are drawn to - and I let the design flow from that.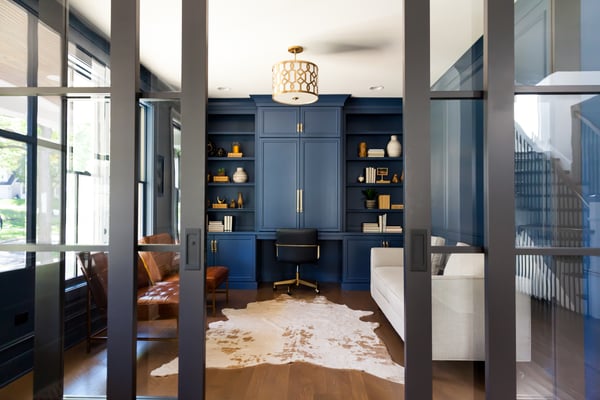 WHERE DO YOU LOOK FOR DESIGN INSPIRATION?
I follow many talented design professionals on Instagram and Pinterest. It has been exciting to see the growth in these platforms over the past few years as it allows me to cast a wider net for inspiration. While I love seeing real life inspiration in my own town, having the opportunity to see what's happening in other areas of the country and beyond keeps me feeling inspired with fresh ideas.
HOW DO YOU KNOW YOU'VE DELIVERED A GOOD DESIGN?
When the client is comfortable in their finished home. It's great when they love their plans, but nothing beats their reaction to those plans being brought to life. Knowing that their house feels like a home to them makes me feel that I've done my job well.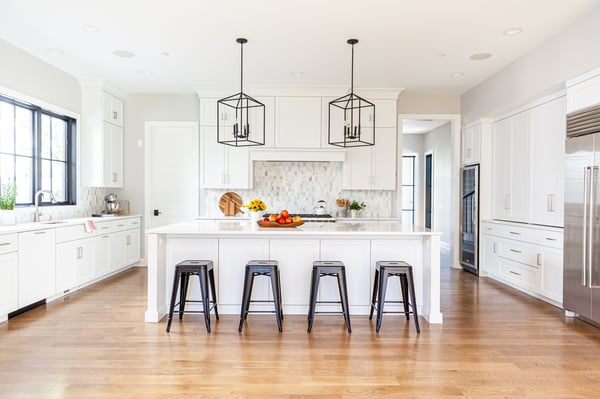 WHAT ARE SOME TRENDS YOU ARE CURRENTLY SEEING IN HOME DESIGN?
In general I don't love the idea of trends in architecture and design. I feel the best design is timeless and classic. This doesn't mean clients can't bring us trends, but if they do we may suggest a solution that doesn't feel trapped in a specific moment in time.
That said, there are some conversations we're having a lot with clients recently. Windows and glass are a big topic in all of our builds. Clients are looking to maximize opportunities to include that element in their home and I see that reflected in other outlets as well. Plan-wise, I see a big shift in how homeowners want to use their space so living functions have changed. This means many clients are doing away with formal dining rooms (as they did with formal living rooms a few years ago). They may still be incorporating the same square footage, but using it in a way that is more functional for them such as outdoor living or flex space.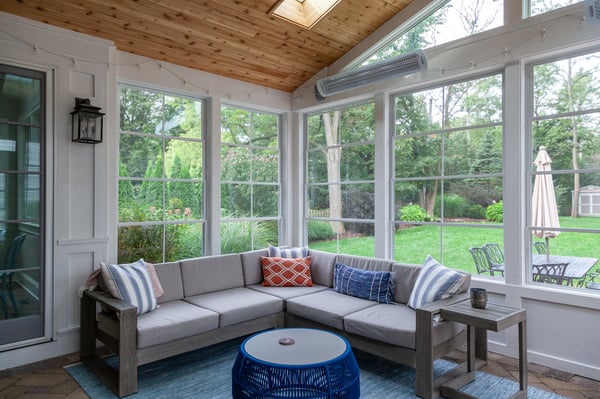 WHAT HAS BEEN YOUR FAVORITE PART ABOUT JOINING THE OAKLEY TEAM?
Simply put, it's the efficiency of putting together a great product. With the Oakley team, we have all of the key people in one place. Information is shared quickly and clearly, and we get the benefit of multiple viewpoints that undoubtedly lead to a better result. That is ultimately what brought me to Oakley and I find it being the piece that I'm happiest about. There's also something to be said for living in the area I'm designing homes in. I love being able to drive my family past Oakley projects and have them share in my work. I end up being a guest in many homes I've designed. Seeing our clients, who are often also friends now, in the element of their own home is also pretty sweet.
WHAT ADVICE WOULD YOU GIVE CLIENTS THAT ARE KICKING OFF A HOME DESIGN PROJECT?
Start browsing for inspiration now! Even if you don't think you know what you want, just start saving images from Instagram, Houzz or Pinterest that you are drawn to. Often times we can look at images you like and find common ground to help you discover your style.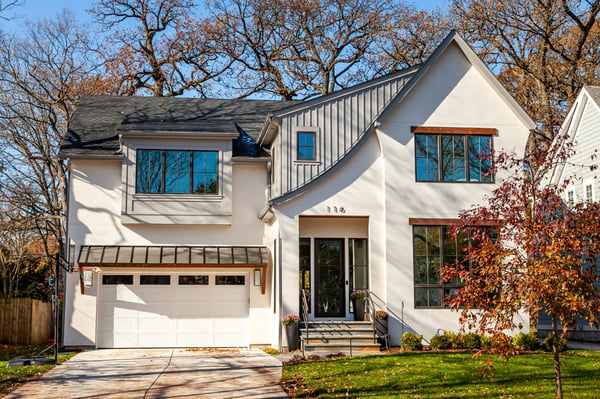 If you'd like to learn more about our team and our unique, streamlined approach to custom home building - please drop us a line! In the meantime, check out some of our portfolios, which include many of the homes that Jen has designed.