In the early stages of planning a custom home, many clients are concerned that the sheer volume of choices they have to make over the course of their build will overwhelm them and take up time that they just don't have. We can't change the fact that a lot of decisions do actually have to be made. Instead, we focused on making those decisions so much easier - and allowing clients to make those decisions with greater confidence. One of the single best ways for us to ensure our clients don't feel they've taken on another full time job with all this decision making is by having Heather, an interior designer, as a dedicated member on our team.
Having an in-house expert to track decisions, keep you on task and educate you on which door hinge to pick or trim molding style to go with quickly becomes invaluable. By pulling Heather's talents directly into our team on every project, we can ensure our client's end up with a beautiful home that has cohesive design throughout. But her role also allows us to keep budgets on track and deliver projects on time; she is sharing in-budget selection options with clients and ensuring these selections happen early enough so our timing isn't impacted by a materials delay.
MEET HEATHER
Heather, a Michigan native, made the return back north with her adorable dog Chloe to the Chicago area a few years ago after spending several years in the Naples, FL market as an interior designer. We chatted with Heather about her role on Oakley and, more broadly, about home design in general.
WHERE DO YOU TURN TO FOR DESIGN INSPIRATION?
On every project, I start with the homeowners. These are custom homes, so I like to take their ideas, inspiration photos, and look for common design threads that represent their style. Not everyone can articulate what their style is, but photos are a great language for understanding an aesthetic that they like. We'll sort through photos they have gathered and I will ask what they like about various images. At first they may not even know, but as we dive deeper often times we'll find a common theme and that helps to inspire choices and selections for their home.
I am also fueled by new ideas and inspiration straight from the field. Our vendors are such a great resource for bringing ideas and sharing what's new. Often times I'll get excited about a new tile, faucet or lighting fixture that they are excited about. Then, I'm looking at our projects to see if any would be a fit with this new element - if any clients might like it as much as we do.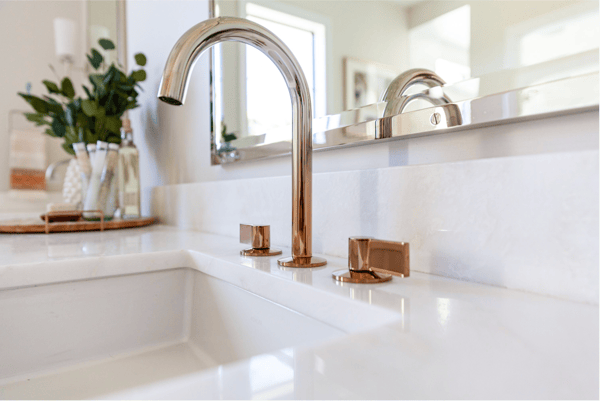 WHAT ARE SOME OF YOUR FAVORITE CURRENT TRENDS IN HOME DESIGN?
The design market has really shifted over the recent years to one of hyper customization. As a custom builder, this is exciting because it means the possibilities really are endless for so many selections! In some of our current projects, we're doing custom paint colors on pendants and custom hardware on appliances. The ability to take personalization even further is one that I like and something our clients are having fun with.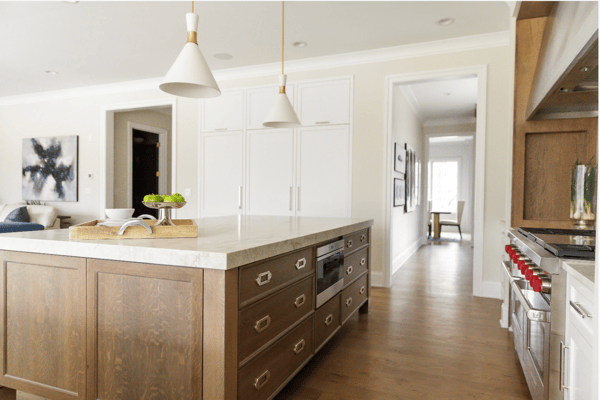 WHAT DO YOU FIND CLIENTS STRUGGLE WITH THE MOST WHEN MAKING DESIGN DECISIONS?
It really is different for each client. Some have a harder time making choices on lighting, appliances, paint, etc. I do my best to see what they are struggling with and get the right resources or options to help make that decision easier. That may be another meeting with our appliance partner to dive deeper into functionality, talking with our lighting designer about what type of light will be best in a certain space or even just pulling more reference photos from a past project to help them visualize a similar choice.
I will say, at some point almost all clients are concerned how their individual choices are coming together. They can pick an individual tile out, but want the confidence to know that it will look good with the flooring and cabinetry. That's where I can really help with speaking up if something may feel like an outlier and guiding them to a solution that will feel more cohesive.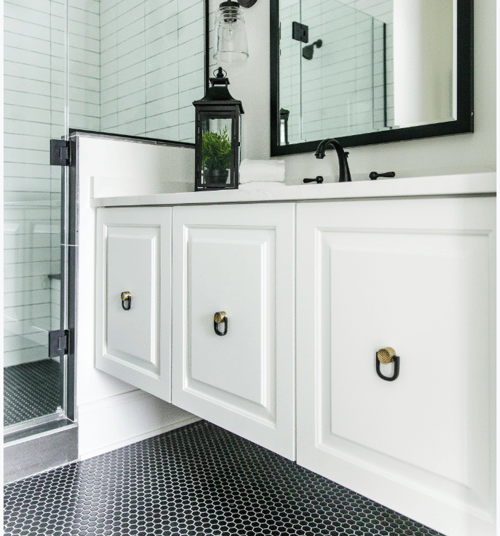 WHAT IS YOUR FAVORITE PART OF THE DESIGN PROCESS?
Without a doubt - the end of the process! Not because the job is done, but rather because it's when I get to see the client's reaction to the finished project. We make selections in a showroom and now the they are seeing that out of the showroom in their actual home. The vision in their head is now a reality and they are excited about their selection all over again.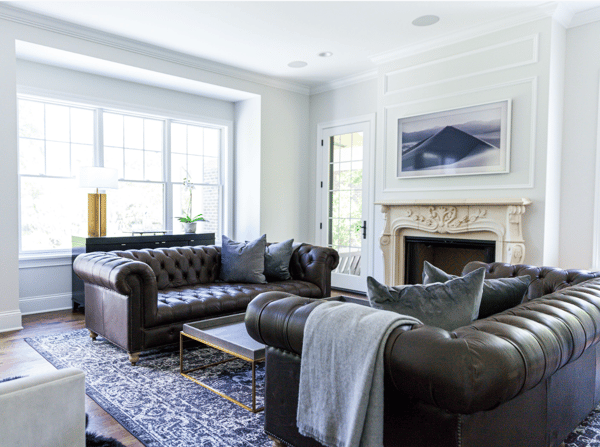 WHAT DO YOU DO TO KEEP THE PROCESS FROM OVERWHELMING CLIENTS?
Breaking decisions down into stages is a huge help. I work to tackle a manageable amount of decisions in each meeting - it's a balance to strike so that we don't create too many meetings or cram too much into a single meeting.
I also consciously try to schedule enough time between meetings and have meetings early enough in the project timeline. Nothing is worse than decisions under pressure, so by doing this we're able to leave and let the decisions they've made digest. If they are second guessing a decision, there is still often time to change. But on the flip side, I'm also there to tell them when it's pencils down on a decision - if they've wavered on something for too long where it might jeopardize timelines, I'll definitely speak up.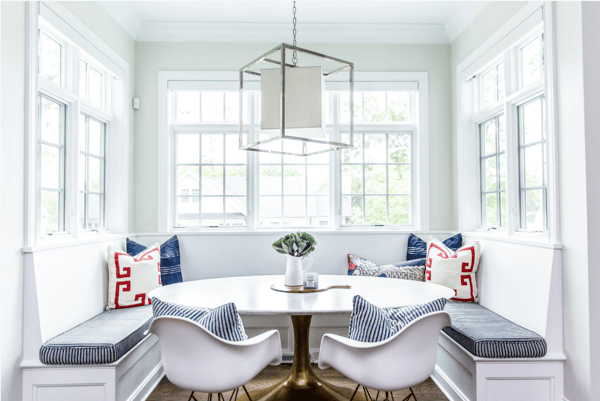 HOW DO YOU KEEP CLIENTS WITHIN BUDGET WHILE ALSO BRINGING THEIR VISION TO LIFE?
Every project has a budget, so before any selection meeting I work behind the scenes with our vendors to pull together in-budget options as a starting point. I'm going to ask our clients all the right questions about their lifestyle, how they will use a room, design preferences, etc. - and will bring some starting ideas for each selection that is in line with the agreed to budget. We're not going to send someone into a tile store with a large allowance and have them figure out how to make it all work. That's no fun for anyone and a surefire recipe for overages.
In our individual selection meetings if a client makes a choice that will put you outside your budget, you'll know immediately so you have time to make a change or we can look to see if there are savings we can find elsewhere to fund that change.
I also love when a client brings me an inspiration photo and I can source something that achieves a similar look, but manages to keep them in budget. It's a fun challenge to take on that pays off in the end.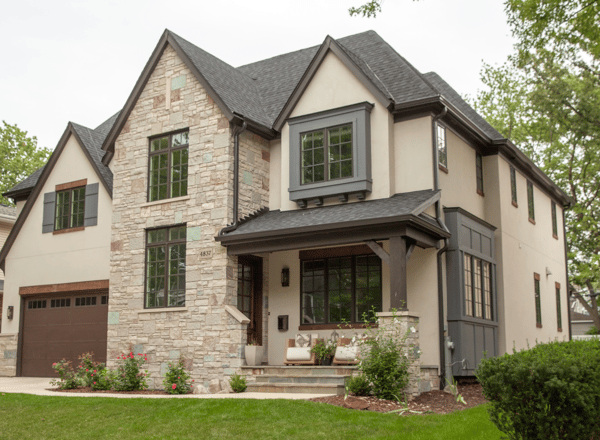 WHAT DO YOU LIKE MOST ABOUT WORKING AT OAKLEY?
In past roles, I worked at a dedicated design company. Here, I have the benefit of the full team under one roof. We spend a lot of time brainstorming as a team how to accomplish various design elements. I may have an idea for something that requires some technical solutions like a complex tile layout, custom range hood or unique built-in. Having our architect and contractor in one place, and deep relationships with our consistent subcontractors, allows me to quickly get an installation solution and pricing. It's just so seamless and takes surprises out of the equation in the field.
WHAT ARE YOUR GO TO PAINT COLORS?
That's always a popular question. People have the hardest time picking out whites and neutrals. So I'd say currently my favorite white for interior trim is Benjamin Moore Decorator's White and my favorite grey is Sherwin Williams Big Chill.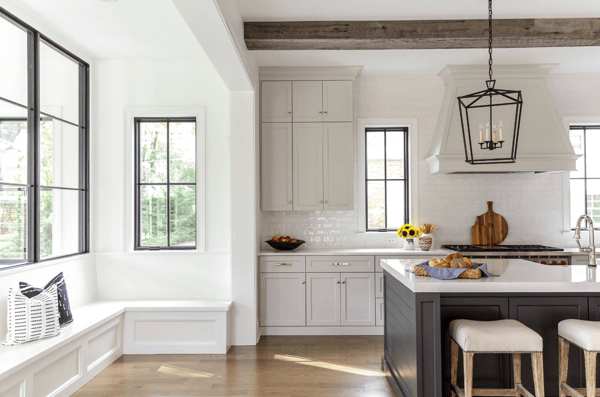 Want to meet more of the Oakley team?
If you'd like to learn more about our team and our unique, streamlined approach to custom home building - please drop us a line! In the meantime, check out some of our portfolios, which include many of the homes that Heather has helped design over the years.