Happy New Year! We promised more project kickoffs would be coming your way, and we're thrilled to start off the year by sharing plans for a custom build just steps away from downtown Hinsdale.
INTRODUCING GRANT STREET
We're incredibly lucky to be working with this family for the second time, as we built their first home in Hinsdale over a decade ago. Their original Oakley home was filled with years of memories, but they needed more space and wished to be closer to town and schools. An oversized lot walkable to town is a rare find in Hinsdale, and we were able to procure the perfect lot for their new home. It just so happens to be located one of the most charming streets in the neighborhood and a two block walk to downtown Hinsdale.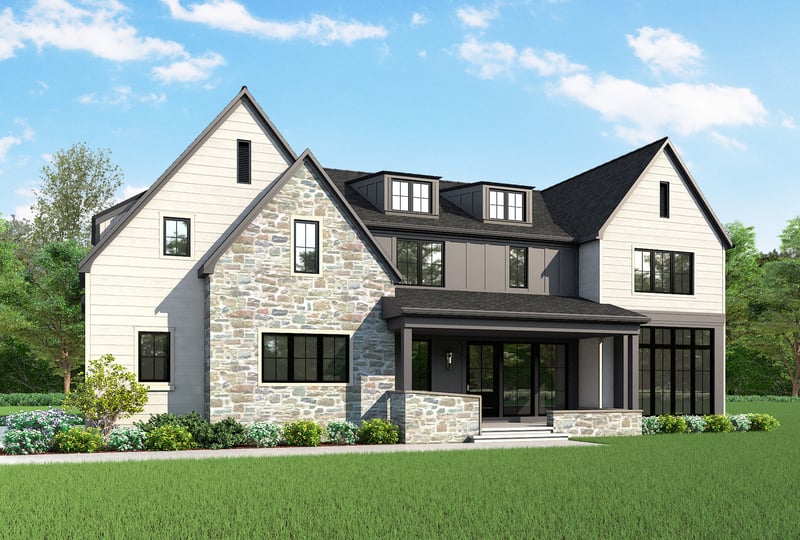 This home's transitional design features a triple gable exterior with dark board and batten contrasting with warm-toned lap siding. Our favorite element is the stone they've chosen to bring in – it complements the other materials perfectly while making a statement all its own. The inviting bluestone covered porch incorporates oversized windows, flooding the first floor with light.
The interior of this 6 BR custom home is designed with distinctive elements, such as a striking open staircase that will anchor the first floor. This family's lifestyle had changed since they designed their first home with us, and it was important that their new home's layout reflected their current needs for each space. We prioritized open living areas, designing an expansive kitchen and dining area adjacent to a spacious family room with room for a crowd. Outdoor living space was also paramount for this family and the home features both a bluestone patio and covered porch with vaulted ceiling. We're looking forward to welcoming this family into their second Oakley home next fall.
Searching for a lot for a custom build? Please don't hesitate to reach out to us. Our team can help you find the perfect location and partner with you design the home you've always wished for. Learn more about our unique approach to custom building here or contact us if you're ready to start planning.