This Glen Ellyn home overlooking Lake Ellyn is undergoing a major transformation with our remodel team. With the rendering done and the project well underway, we wanted to share what we have in the works for this Oakley renovation project. But first, a little background:
LENOX AVE: BEFORE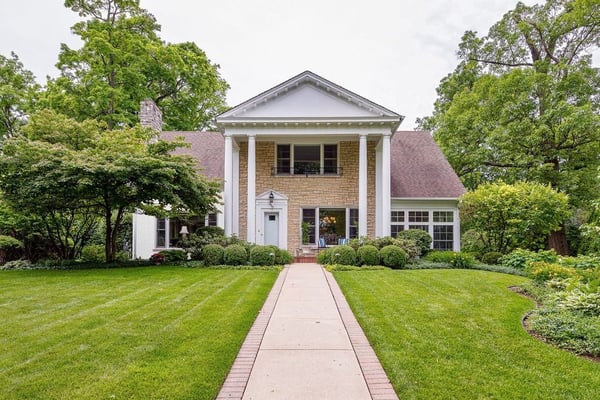 Our team saw this home on the market and quickly knew the potential that it had. Top of the list were the home's impeccable "bones" in the structure and size of the home, a coveted Glen Ellyn location with views of charming Lake Ellyn, and a jaw-dropping backyard. We shared this potential renovation with our clients who are longtime Glen Ellyn residents. They knew the location and lot were ideal, but painting a picture of how this formal, stately home could be transformed to fit their style and needs understandably took some more meetings and explanation. Through a series of conversations with our architect and design team, combined with detailed proposals we did our best to paint a picture of what "could be" with this home. Here is where we landed:
LENOX AVE: RENDERING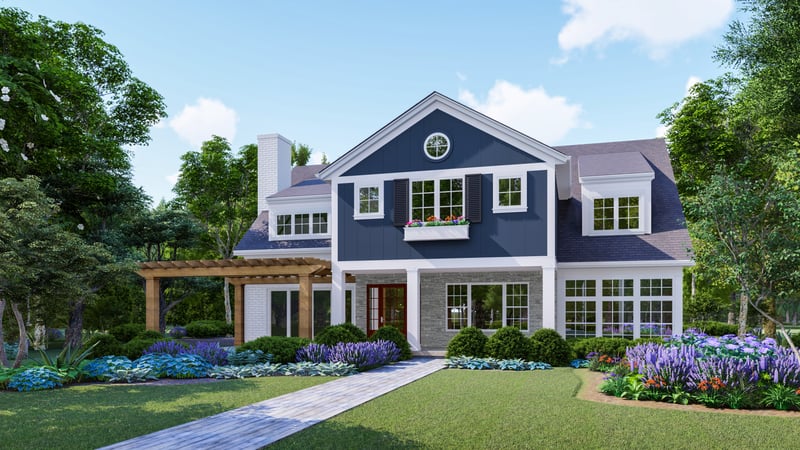 Transformed into casual, coastal charm
Here is some insight into what's changing and why:
STYLE SHIFT: The exterior of the current home really wasn't a fit for our clients. The formal, traditional design wasn't in line with the more relaxed style they prefer. The original interior of this home had the same level of formality. Design choices were made to transform the home into a casual, but still refined, coastal feel. After a full color exploration, the clients landed on a rich navy (Hale Navy to be specific) accented with crisp white trim and painted brick. Circular accent windows and decorative shutters add appropriate charm, while the original two story columns were taken down to a single covered front porch. This went far in making the home look less stately and more welcoming.
LAKE ELLYN LIVING: When tackling a renovation, we're always focused on playing to existing strengths and only eliminating what doesn't work. It's important to strike that balance so that you maintain enough of the house to make a renovation worthwhile. Here, we took a few major steps to evolve the overall footprint. Many of those steps revolved around the biggest pro of this house - the views of Lake Ellyn. We leaned into this benefit by adding dormers upstairs so bedrooms now have a view and more natural light, adding huge slider doors on the front of the home, and incorporating a pergola to encourage front-yard (lake view!) living.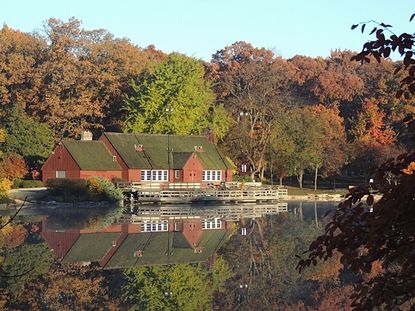 Focus: Maximize views of Lake Ellyn
FAMILY FLOW: The floorplan inside needed changes to make it work for this active family of 6. The enclosed kitchen was opened up and positioned more towards the front of the house where a lot of the action will be. This expanded space opens up to a large living room, but an additional sun room is set on the other side of the house, potentially offering a quieter space when needed. And with this family, we can't forget the thoughtful attention paid to the mudroom. We were careful to ensure it could accommodate the gear for this whole crew!
Our team is currently working our way through interior selections and construction. We are eager to get this family into their home. This family will bring some wonderful added energy to the heart of Glen Ellyn. We're oh-so-thankful for the trust they've put in our vision we've customized for them.
Think you might be ready to tackle your own home renovation transformation? We have a specialized team ready to find the perfect property for you to personalize.