INTRODUCING FRANKLIN AVE IN RIVER FOREST
It has been a few years since we've built in River Forest, so we're eager to return to this incredible town. Located just over 10 miles from Chicago and neighbors with Oak Park, this town has an abundance of charm, culture and so many beautiful homes. Once our clients locked on a lot in River Forest and determined they would be going the new construction route, the wish lists they had been considering for years really began to take shape. From the start, it was important to the homeowners that this home blend with the beauty of the neighborhood, but mange to feel tailored to their style and be a complement to how they live their life.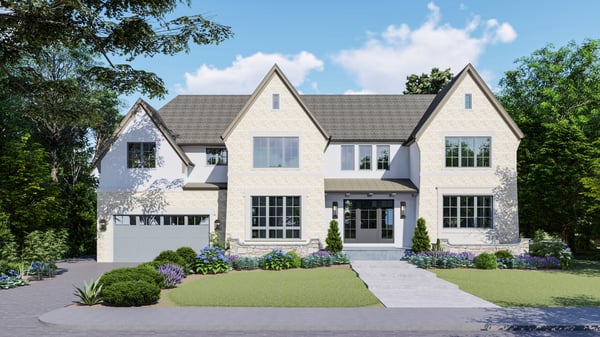 After many thoughtful discussions, the resulting architectural plans for this River Forest home led to a vision of elevated living and distinctive design. This 5100 square foot home brings customized spaces galore for these longtime River Forest residents. That customization started with the placement of the home on the property. Natural light was an important element to our clients from the start, so the home is positioned to maximize natural light and the oversized windows and front door ensure the interior will be bright and light-filled.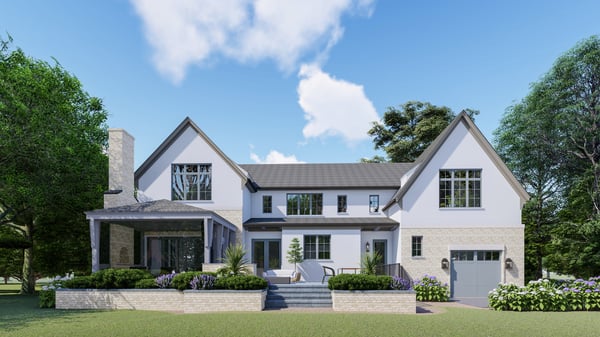 Outside spaces are truly special with dual front terraces, a raised rear patio and screened in porch that incorporates motorized screens. The 3-car garage includes a tandem spot with a rear entry garage door with access to the driveway that offers a practical solution to avoid shuffling cars around. Inside the chef's kitchen opens up to a family room with soaring 12 ft ceilings. Kid and family spaces are thoughtfully designed; a music room featuring glass doors that offer some sound buffering, a shared loft space above children's bedrooms, and a game room and tv space in the finished basement perfect for casual hangouts.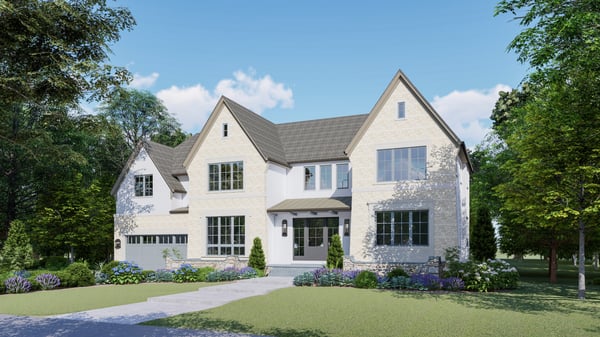 As we dive into the construction of this home, conversations have begun on various exterior and interior selections for the home. Throughout our typically build process, when we move from architectural plans to final build plans with our clients, we've found the added step of producing these 3-D renderings to be a helpful one to aid in final decisions. Often it's a step that just helps to bring plans to life in an exciting way for our clients - the fun part! Other times our internal architectural and design team use them to confirm element and material recommendations - and allow our clients to do the same. In this case, we're still working through some decisions on materials for the facade of the home - and can't wait to share with you upon completion.
We're also in the process of finalizing plans and kicking off another River Forest home. We will be sure to update you on the vision for that home in the coming weeks.
Interested in talking about your own custom home, renovation or finished basement project? Give us a shout! We have great lots in so many other towns and can help you find the perfect place for your dream home.
You can also check out some of our finished work here: