If you've been following along on social media, you know that there's a special project which we've been sharing sneak peeks of for months now, and we're happy to announce that the home tour you've been waiting for is finally here! This is our first of two projects in a private, picturesque area of Wheaton just east of St. James Farm, offering spacious lots just perfect for grand homes. We were fortunate to meet this client and have the opportunity to partner with Moment Design and Kristin Rauch Interiors to build a home remarkably tailored to their lifestyle and interests.
INTRODUCING MADISON ST - Take 1!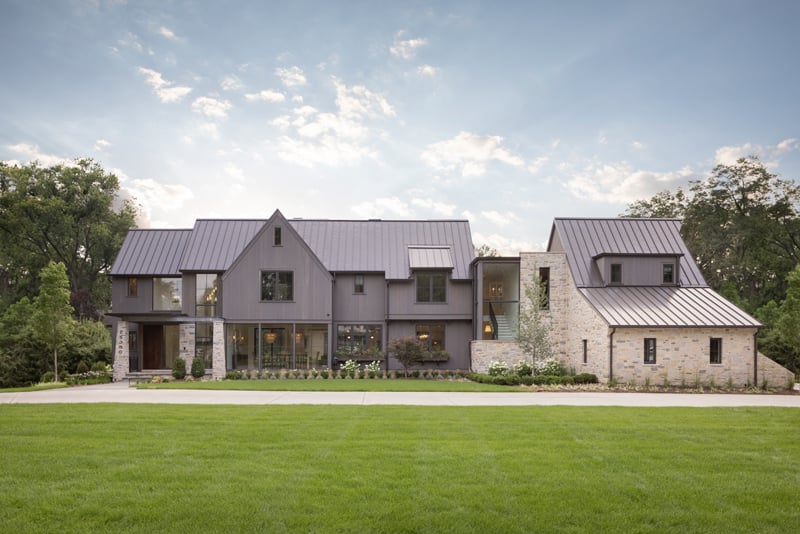 The expansive front elevation of this home, designed by Moment Design, takes full advantage of the extra-wide lot it sits on. The exterior blends warm, organic materials such as vertical cedar lap siding and natural stone with modern elements such as galvanized steel beams and a metal roof. Abundant light flows in through oversized windows and glass-encased interior spaces.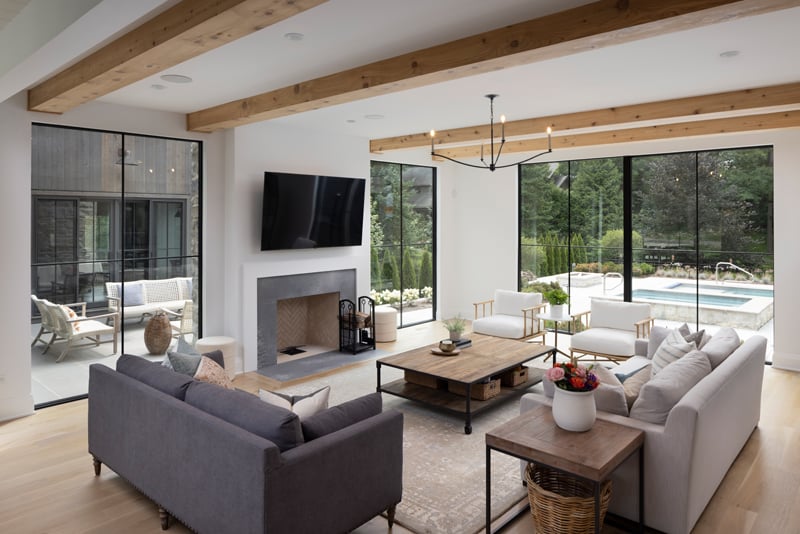 Oversized windows are the highlight of this room, ensuring that interiors blend seamlessly with outdoor spaces.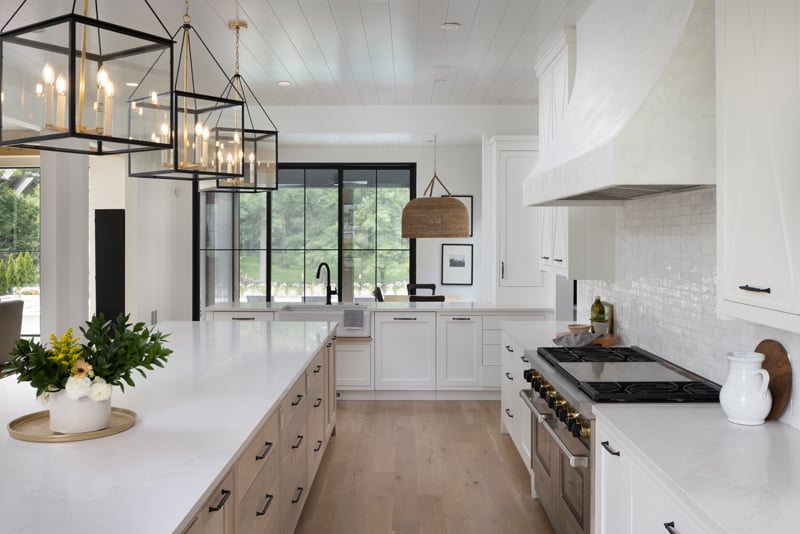 The chef's kitchen is tailored with an oversized stained-oak island, shiplap ceiling, elegant custom hood and sleek stone backsplash, providing the perfect backdrop for this homeowner who loves to cook and entertain.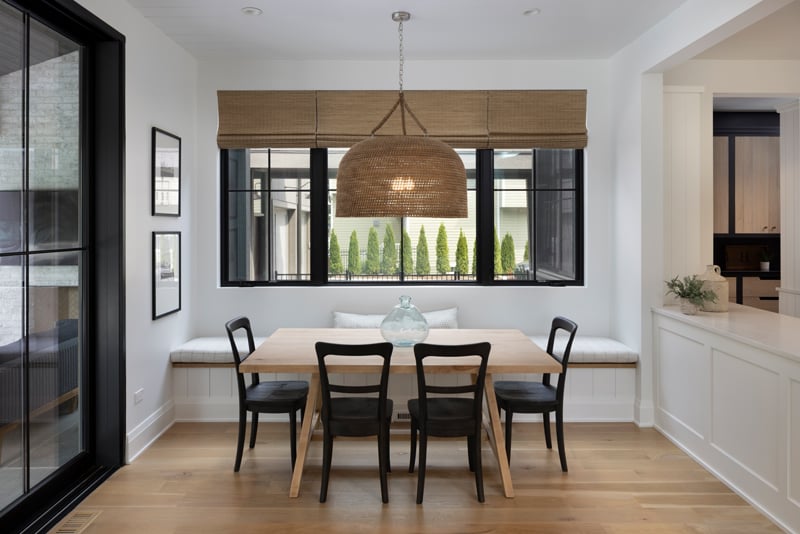 Just past the kitchen, a charmingly cozy breakfast nook is the spot for casual weeknight family dinners.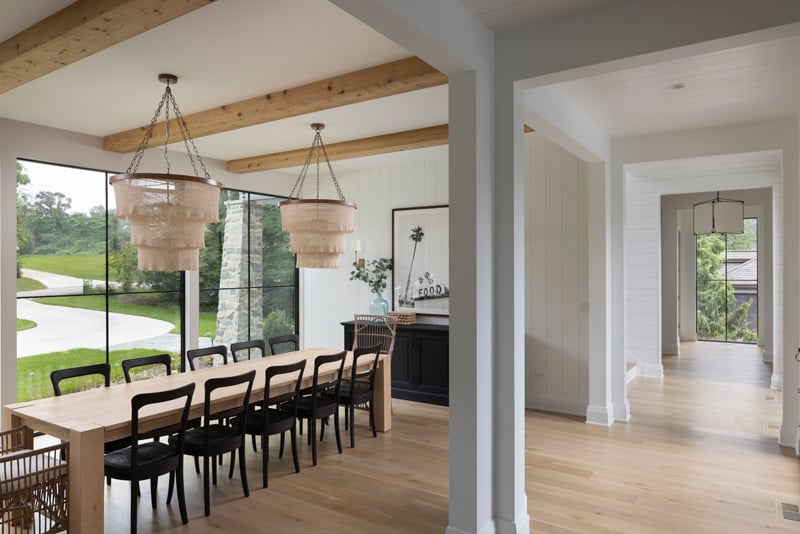 The sun-drenched dining area proves that this home was made for entertaining and we'd be thrilled to be a guest here any evening. Floor-to-ceiling windows provide dramatic, sweeping views of the front lawn.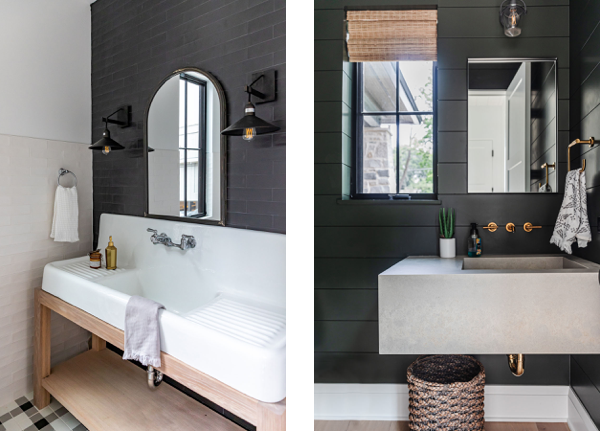 We love that the personality of each space in this home matches the way in which the family would use it on a day-to-day basis. A powder room sitting adjacent to the mudroom has a more casual feel with a cast-iron sink and plaid tile floor, perfect for kids stopping in before or after school. Down the hall, a second powder room close to the entertaining spaces takes a more formal tone.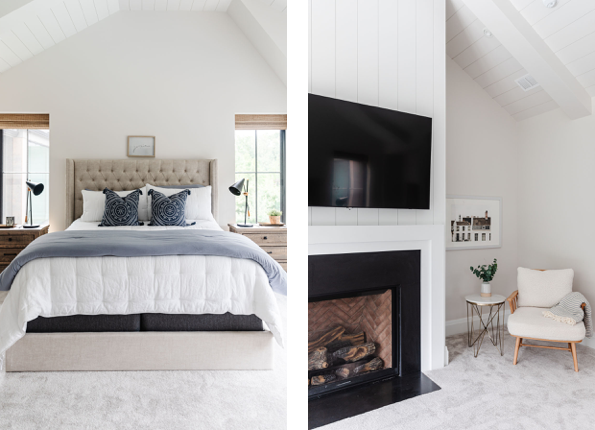 Custom vertical, horizontal and ceiling shiplap are featured all throughout this home, including a high-impact use incorporated into the vaulted ceiling of the master bedroom.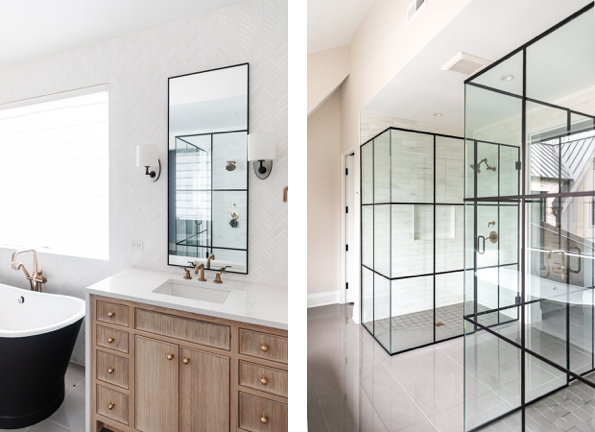 The master bath transforms into a spa retreat with a freestanding soaking tub, elegant his and hers vanities and side-by-side glass-enclosed showers.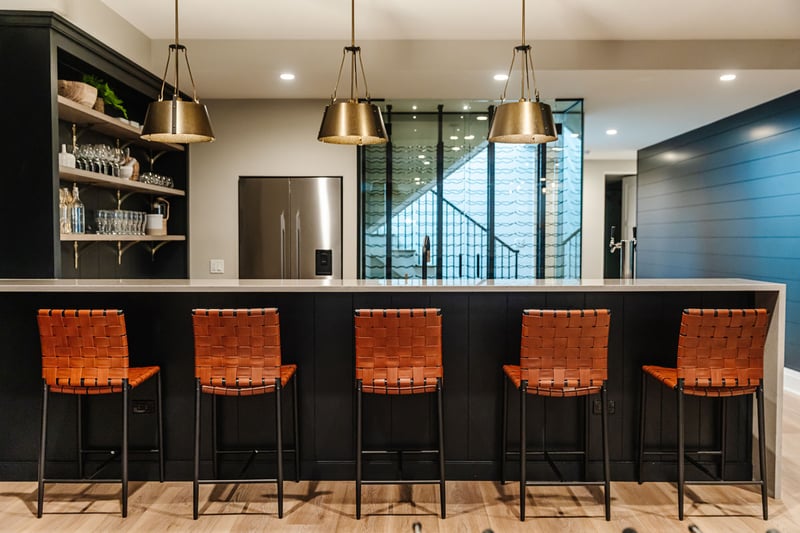 If you loved the first and second floors, prepare to be blown away by this basement. We're starting off the lower level tour with this showstopper of a bar area that begs you to pull up a chair. A waterfall countertop, shiplap-backed island, and open shelving are standout design touches that highlight the best of our subcontractors craftsmanship. Our favorite feature just might be the glass-encased walk-in wine closet.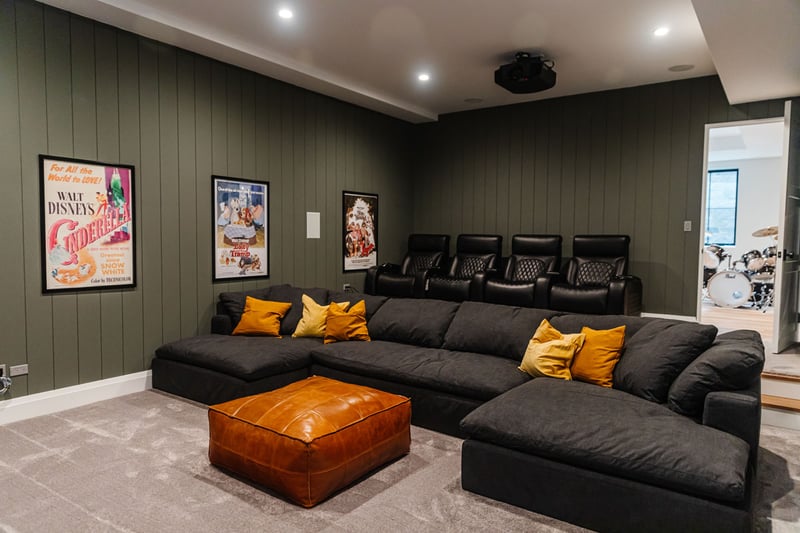 We can't wait to hear about the movie nights in this comfortable theater room with elevated seating and enough space for both family and friends. When we construct rooms like this, its often key to highlight what's in the walls; ample soundproofing can go a long way in a theater room!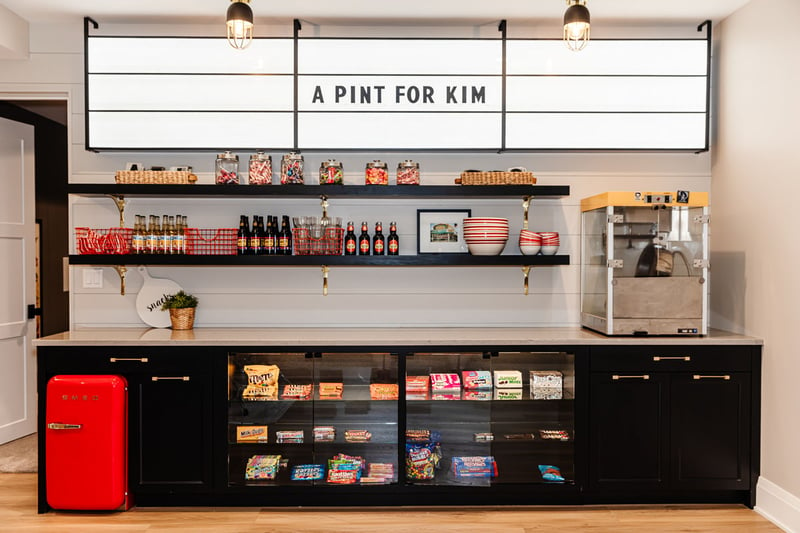 Of course no theater room is complete without a fully-stocked snack bar!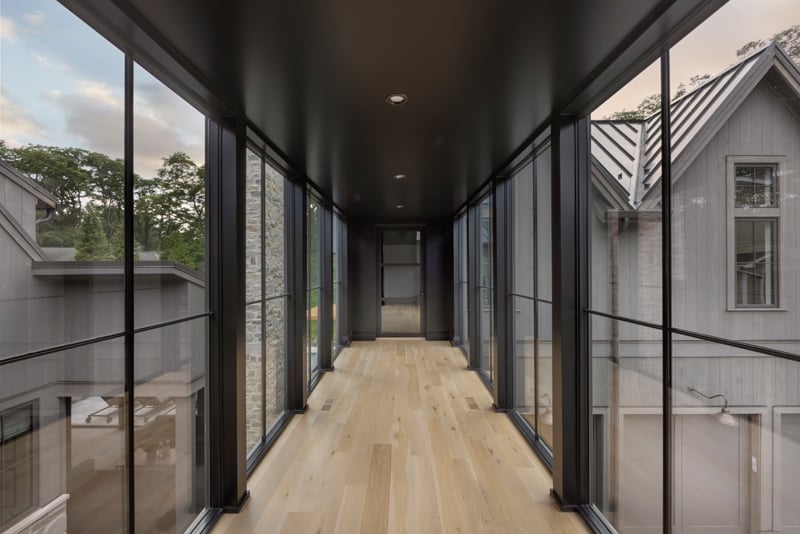 Jumping back up to the second floor, a jaw-dropping glass-encased breezeway connects the main house to the sport court and garage.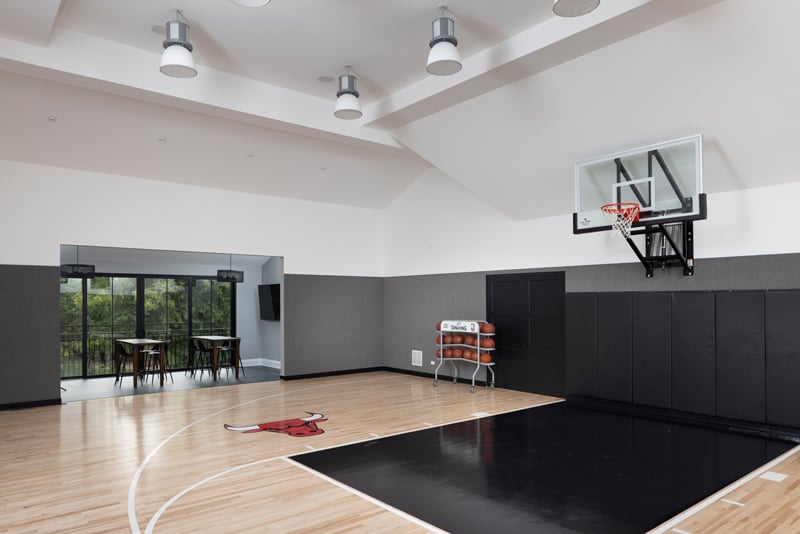 Feast your eyes on an indoor sport court that we think MJ would definitely approve of! Below this space is an expansive garage and workshop where our car-enthusiast client stores his extraordinary collection of vehicles.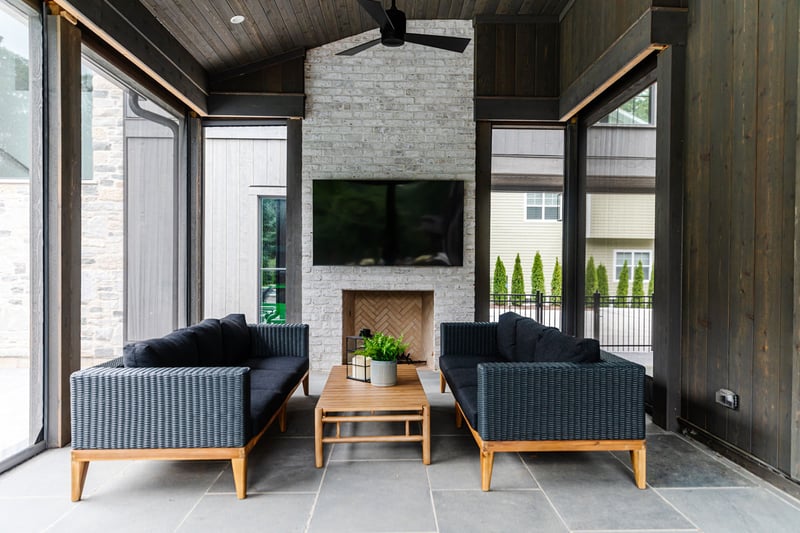 As we move outside, a covered patio provides a perfect space for fall football gatherings and cozy wine nights. Ideal for multi-season living, phantom screens easily allow the area to transform into a more closed space.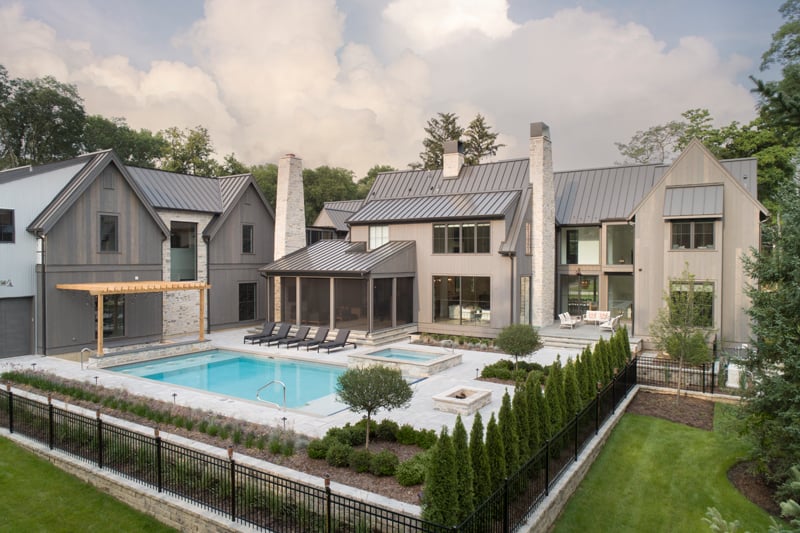 We'll close our preview with a shot of the extraordinary backyard retreat that our clients have been dreaming of ever since we broke ground. It was our pleasure to bring this dream home to life for this amazing family and we hope you've enjoyed seeing a sneak peek at their new space!
To discover the rest of this home, visit our full image gallery at the link below.
As we mentioned, this is just our first of two homes on Madison Street in Wheaton. If you enjoyed this tour, be sure to check out our project kickoff for our build next door. We are looking forward to sharing a few more home tours soon and have just broken ground on new builds in Downers Grove, Naperville, Hinsdale, and Elmhurst. Yours could be next – learn more about our differentiated design-build process or contact us if you're ready to start building your new home.