We hope you enjoyed our recent Naperville Home Tour and now we're going to switch gears to jump back into project kickoffs. We're grateful to have a bunch of new projects on the horizon this year and can't wait to share them all with you in the coming months. Today's project kickoff is a home currently under construction in Elmhurst. If you were a fan of Arthur Avenue in Clarendon Hills, we think this spin on modern design just might be your new favorite.
INTRODUCING COTTAGE HILL AVENUE
These clients had fallen in love with a sprawling corner lot just a few blocks south of downtown Elmhurst. They were kindly referred to us by a previous client and had already begun working with Fergon Architects on the design of their home. We gladly jumped in to partner with them and bring their home's vision to life.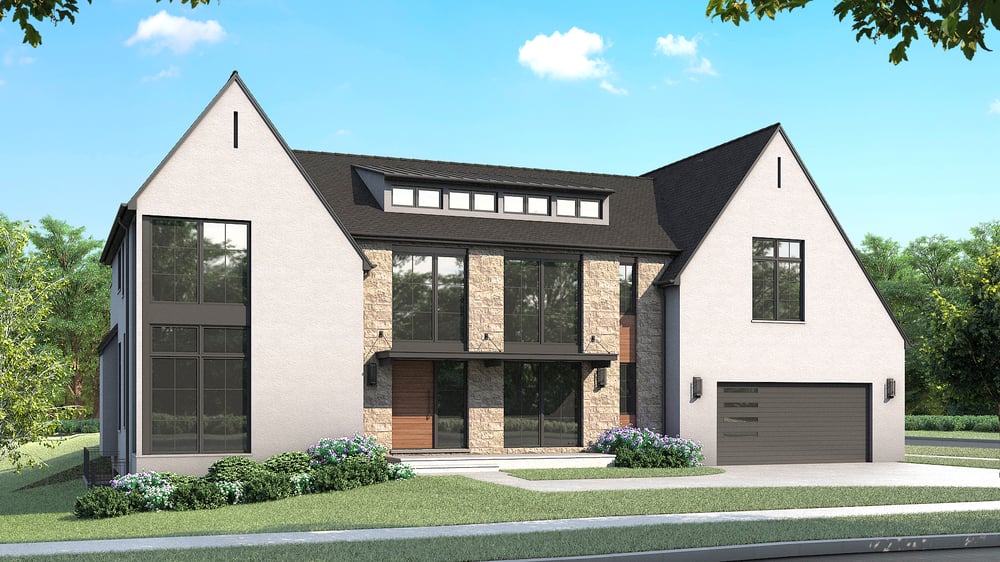 This home's decidedly modern aesthetic is emphasized by pitched rooflines and complementing vertical lines. A warm stucco exterior is accented with organic materials, most notably the distinctive stonework that carries all the way to the roofline. Oversized windows amp up curb appeal while also serving a practical purpose, infusing light throughout the home. We'd be lying if we said we also didn't appreciate them for the sneak peek of what's inside. A stunning stairway sits just right of the entry and the wall of windows on the side opposite the garage belong to a sun-drenched study with jaw-dropping 11-foot ceilings.
Step inside and you're greeted with an open floor plan that immediately draws you into the expansive kitchen and family room. The strikingly modern kitchen is one space we cannot wait to unveil. Expect sleek gold and matte white laminate cabinetry paired with elevated appliances and functional open shelving. A massive L-shaped island anchors the space and provides a casual dining area. The first floor is complete with a window-filled breakfast nook featuring a glass-encased wine closet. Outside, you'll find an inviting covered patio with both a grill and an outdoor fireplace.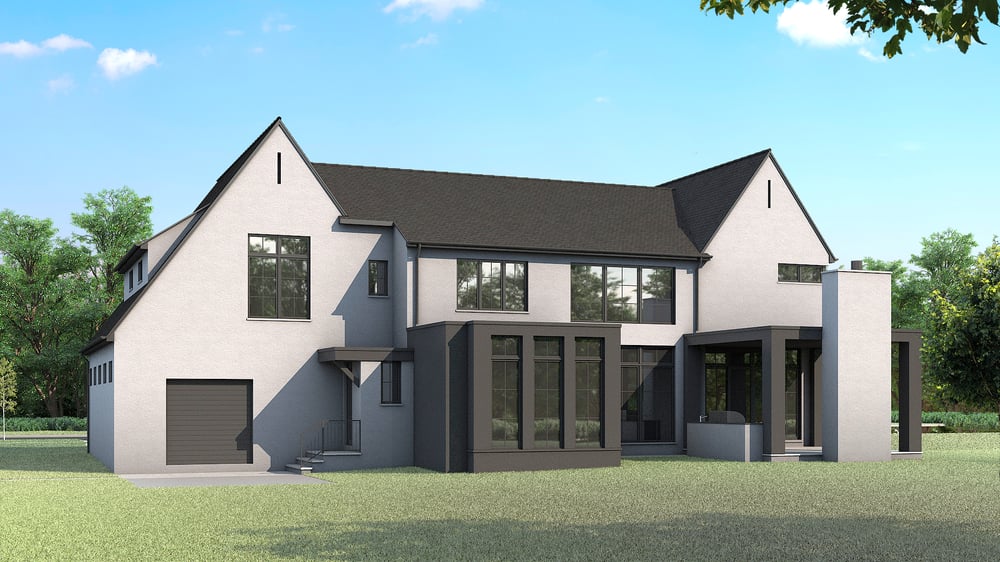 This fully custom home will be finished with 4 bedrooms, 5 full baths and 2 half baths. The second floor includes a sweet play loft, but the fun does not stop there. Make your way downstairs and you'll find a finished basement with endless amenities. A rec room, exercise room, wet bar, game room, and sport court will keep this family entertained year-round.
If you're searching for a new home but aren't finding what you're looking for in an existing home, a custom build might be right for you. We'd love the opportunity to share our unique design-build process and partner with you to find the perfect lot. Contact us to learn more and start designing the home you're dreaming of.